Loop Returns is a Shopify platform that enables merchants to simplify the returns process and encourage customers to turn returns into exchanges by offering 4 ways to return: exchange, shop now, store credit or refund.

Daasity Growth merchants can find this dashboard under Dashboards > Product & Inventory.
Daasity Professional merchants must contact their TAM or support@daasity.com to enable this integration and dashboard deployment.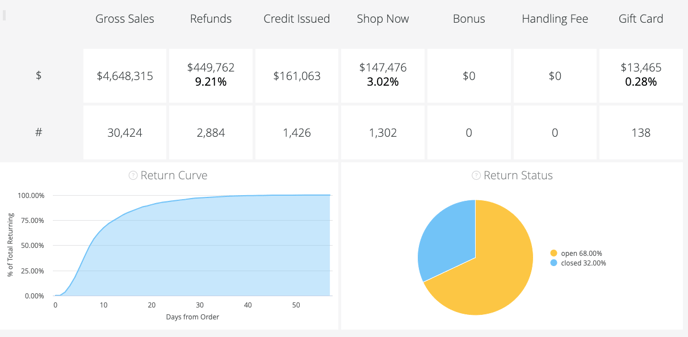 The top section displays all of your top-level metrics in both dollar-amount and order numbers, that are important for the Loop integration. This includes your brand's:
Gross Sales: the total amount charged to a customer less tax.
Refund Amount: the total amount that has been refunded to customers.
Credit Issued: the total amount of store credit that has been issued in lieu of refunds.
Shop Now: the total amount from the refund that was used to exchange.
Bonus: the total amount issued to customers who request an exchange rather than return.
Handling Fees: if applicable.
Gift Card: the delta outstanding between the credit issued and the credit used.
Below your summary metrics, you'll find a Return Curve and Status.
The Return Curve shows the average percent of orders returned over a period of time. This is helpful in forecasting to understand at what point, on average, you will have likely issued all returns and the velocity that they happen.
The Return Status shows the current state of returns and if they are Open or Closed.
Return Processing Time
The next section has several views around the time it takes to receive and process returns. There are multiple measurements in return time. There is time from Open to Close, Time from Receipt to fully Processed.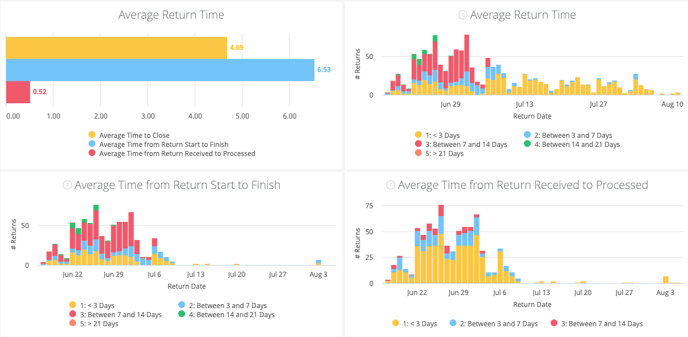 This will help you identify where there are areas for improvement, or where issues may be occurring, or conversely, improvements and optimizations taking effect.
Product-Level Return Detail
This final section has detail around your product assortment and returns. We've mapped the return back to the original order so that we can perform analysis on product-level return rate.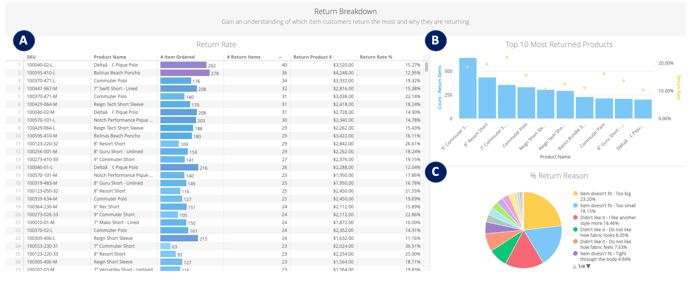 The first table you'll see, labeled A above, has product level return detail. Sort by best sellers or most returns to see which products have the highest or lowest return rate in your assortment. This, along with chart B to the right, can help easily identify the products with either the largest negative impact on your business, or the products that perform quite well, are not returned, and can be used as a model for future product development.
Chart C provides a visual depiction of the reasons for returns overall. If you wish to see greater detail on return reasons by product, just scroll down to the next table which contains a matrix of that information. Or, if you'd like to see the same output for a specific product, follow the instructions here.
Exchanges
The final section contains details for Exchange Orders. It contains pie charts around failed exchanges and overall return vs. exchange rate. To the right, you'll see a visualization that shows the product that are being exchanged and what they are exchanged for.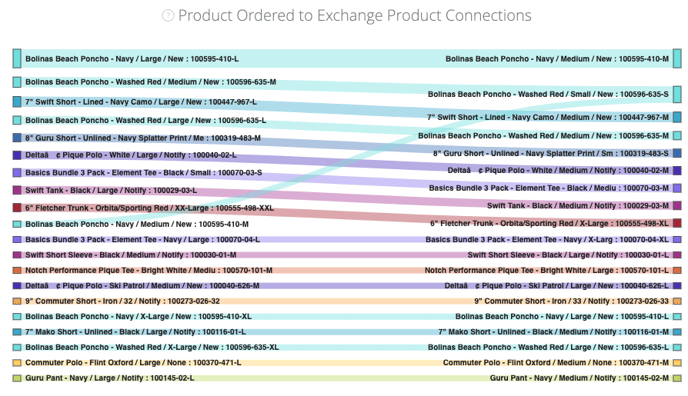 If you start to see patterns around size differences, perhaps messaging on your product pages about 'runs big' or 'runs small' may help improve your return and exchange rate.