While Daasity's Order and Order Line Revenue reports use slightly different logic than Shopify for reporting on some measures, the Shopify Sales Report matches the numbers found Shopify exactly. This gives you Looker's visualization and customization tools for your Shopify data.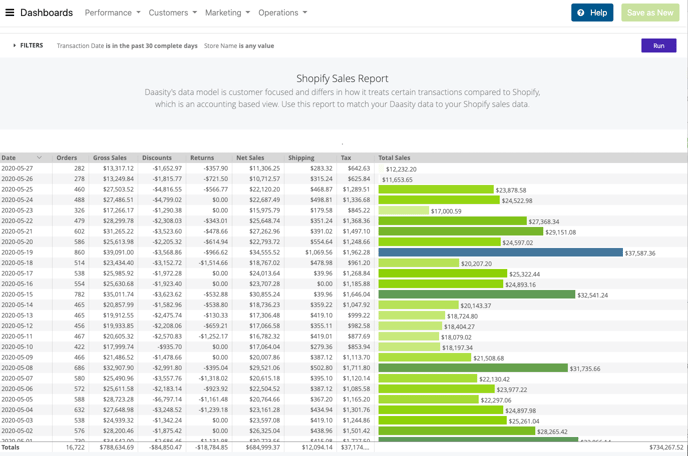 Time Dimension of Report
You'll find the Total for the period at the bottom of the table. This dashboard is at the daily level. To change the time frame, simply edit the Filter at the top of the report.
To view a different time dimension, such as by month:
Click the three dots in the upper right corner of the tile.
Select Explore from Here under 'Tile Actions'.
Replace the Transaction Date with the timeframe you would like, such as Transaction Month.
Add a Transaction Date Filter if needed, for example, the past 12 Months.
Measures in the Report
All measures follow the logic specified by Shopify.
Orders

The number of transactions that occurred on a given date. This does not include orders that only contain giftcards.

Gross sales

Equates to product price x quantity (before taxes, shipping, discounts, and returns) for a collection of sales. Canceled, pending, and unpaid orders are included. Test and deleted orders are not included.

Discounts

Equates to line item discount + order level discount share for a collection of sales.
The total dollar value reduction applied to a sale in the form of discounts on products, collections, or entire orders.
Discounts that are applied to an entire order are proportionally applied to the sales for the order.
All discounts are applied before taxes.
Discounts are created using discount codes, not the compare at price.

Returns

The value of goods returned by a customer.

Net sales

Equates to gross sales - discounts - returns.

Shipping

Equates to shipping charges - shipping discounts - refunded shipping amounts.

Tax

The total amount of taxes based on the orders.

Total sales

Equates to gross sales - discounts - returns + taxes + shipping charges.

Total sales will be a positive number for a sale on the date that an order was placed, and a negative number for a return on the date that an order was returned.
FAQs
Q: What currency is the report in?
A: The report is in USD.

Q: What time-zone is the report in?
A: The time-zone will match the time zone of your Daasity account.

Q: How can I look at individual orders?
A: Go to Tile Actions -> Explore from here. This will open up the Shopify Sales Report explore. Here you can add in either order id (the Daasity order id), store order id (order id from Shopify) or order code (order name in Shopify).

Q: What if the numbers don't match the Shopify report?
A: If all measures are slightly off, the likely cause is that the Looker Shopify Sales Report is incorrectly converting time zone for your account. Please reach out to Daasity support and someone on our team will quickly roll out a fix.