Your Daasity data is refreshed once, overnight.

Account Status
Account Status shows as your Homepage when first logging in. You may also access this page from the left nav.
In this section, you'll find details related to your nightly data refresh. Your Refresh Status will appear as Completed, Running, Not Run Yet, Not Started or Error.
You'll also find shortcuts to Brand Data, Dashboards, and of course, our Support homepage!

Analytics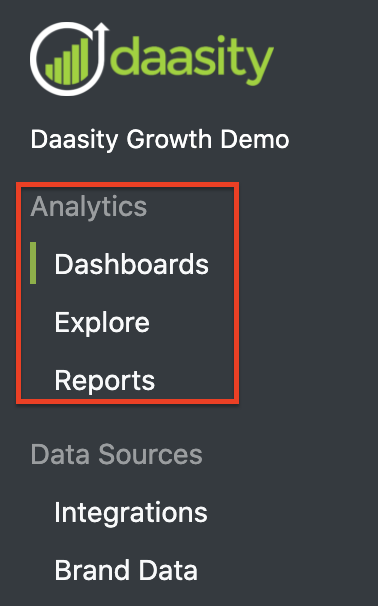 Dashboards
These are the groups of tiles were built by our Analysts, for you! Our standard Dashboards include Performance, Customer, Marketing, and Operations metrics (unique Dashboards for each category). More about these here!

In the upper right corner (if accessing a Dashboard), you'll notice a blue Help button. Use this as a shortcut to the Support article relating to the Dashboard you're viewing.
Explore
The Explore section gives you the ability to create and save your own Reports. Each Explore contains a unique set of categorized data taken from your Integrations and Brand Data.
Reports
The Reports section will store your saved queries (from the Explores) section. Saving Reports means you only have to build once, and makes your customized data easily accessible.
Data Sources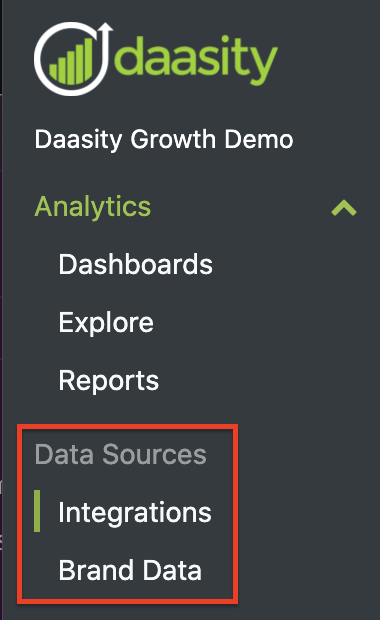 Integrations
Integrations are required to utilize our data warehouse, and present you with centralized data (Shopify, Google, etc). Under "Data Sources," click "Integrations."
Brand Data
Brand Data is used to perfect your Daasity Dashboards. Under "Data Sources," click "Brand Data."