This article will show you how to setup a new Audience using the Attentive Custom Attribute API so you can add additional customer data to your Attentive Subscribers and use the data to create segments for your SMS campaigns
Key Topics
Overview
After completing the steps outlined in this article you should be able to:
Create a new Attentive Subscriber Target
Define the customer report or query that will be used to update the Subscribers
Select and map any additional data to push into the Attentive subscriber
TIP: The best way to use our Attentive Subscriber Target is to send data that you want to use to create segments for creating campaigns in Attentive. Some great ideas:
Gender of the customer
Product Categories that a customer purchased
RFM Segments
Opt-in status for your email service provider (ESP)
Selecting Attentive Subscriber Target
A new Attentive Subscriber Target can be created by navigating to the Audiences Target main page, clicking on New Target
And then selecting Attentive Subscribers

General Setup
Once the Attentive Subscribers has been selected, we must fill out the information in the Target to enable the Daasity platform to extract, map and push the data into the Target
Give you new Target a name so you can find it in the Daasity platform by naming the Target in the red box below

Authorize Daasity
Next you need to authorize Daasity by clicking on the Authorize button which will redirect you to Attentive and ask you to Accept the integration


Selecting the Audience Source
Select the source for the Audience that you want to use for this Target by using the drop-downs below. For more information on how to setup the different Audience Sources see this article.

Mapping the Data
Once the Audience Source has been selected, the Daasity platform will extract a sample file to determine what data is returned from the extract and list the Source fields that are available to be mapped
Select or enter the Destination for each Source that you want mapped and pushed to the Attentive Subscriber. If you leave a Destination blank then Daasity will not push that data element into the Target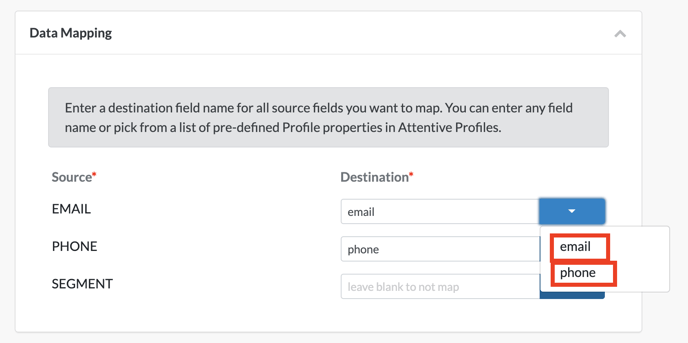 NOTE: The Attentive endpoint requires you to use a primary field (email or phone) to match the incoming data to a Subscriber. You will need to map one of our Source fields to either email or phone as an Attentive destination
Scheduling your Target
Now select the frequency for the target. Possible selections are:
Daily
Weekly (select the day of the week)
Monthly (select the day of the month)
The Target will run after the daily workflow is completed on the schedule selected


Finish Creating your Target
Once you have completed each of the above steps you are ready to finish creating your Attentive Subscriber Target
Click on Create in the top right

This will take you to the details page of the Target. From here if you click on edit you can run the Target now or wait until the next scheduled time for the Attentive Subscriber Target to run

Related Resources