This article will show you how to setup a new Google Ads Target using the Audiences feature in the Daasity App, so you can send your Customer Segments with your Ad Campaign or to create a Lookalike Audience.
Key Topics
1. Overview
After completing the steps outlined in this article you should be able to:
Create and name the new Google Ads Audience
Update a current Google Ads Audience
Define the customer report or query that will be used to create the event
Select and map any additional data to push into the Google Ads Audience
Learn how to use your Google Ads Audience for an Ad Campaign or to create a Lookalike Audience
2. Target Selection
Selecting Google Ads Target
A new Google Ads Target can be created by navigating to the Audiences Target main page, clicking on New Target in the top right corner.

And then selecting the Google Ads Target.
3. Authorize Daasity
Once the Google Ads Target has been selected, we must name our Audience (you can use the Segment or any key word to help you identify this Target) and grant Daasity authorization to access our Google Ads account before we can push the data.
Clicking on the Authorize button will take you to Google Ads authorization page, where we must login and grant access to connect our account with Daasity.
Once you have logged in, just click on the Continue button in the bottom right corner.
Once we are connected we need to select the Google Ads Ad ID (if you manage multiple accounts, you have to select the one we are going to use to create the Audience) .
4. Create/Update Google Ads Audience
Now you just have to select if you want to create a new Google Ads Custom Audience or just update one you already have in Google Ads.
To create a New User List select the option on the dropdown and name it as you will use it in Google Ads:
To update an existing Google Ads Custom Audience:
5. Selecting the Audience Source
Select the source for the Audience by using the drop-downs below. For more information on how to setup the different Audience Sources see this article.

6. Mapping the data
Once the Audience Source has been selected, the Daasity platform show the list of fields that are available to be mapped.
7. Scheduling your Audience
Now select the frequency for the Audience. Possible selections are:
Daily
Weekly (select the day of the week)
Monthly (select the day of the month)
The Audience will run after the daily workflow is completed on the schedule selected.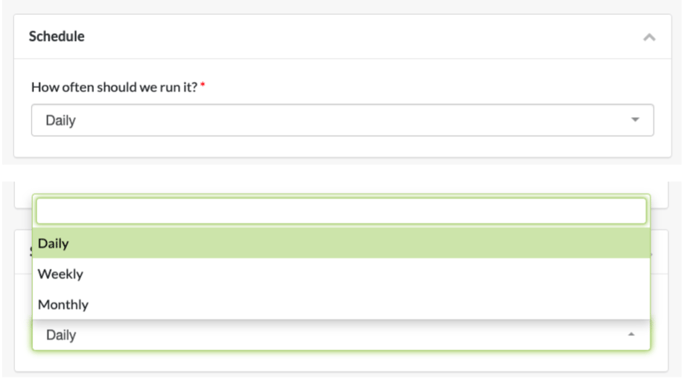 8. Finishing creating your Audience
Once you have completed each of the steps above and your Target has been triggered, you are ready to review your Audience's Details in Google Ads Manager by going to the "TOOLS ANDS SETTINGS" tab and then clicking on "Audiences Manager".