Creating a new report or query from an existing dashboard is a simple exercise and unlocks insights hiding in your data.
In this section you will see how to modify the % Return Reasons to show data for a specific product, instead of all products.
Start by clicking on the ellipses (three dots) in the top right corner of the tile and select "Explore From Here".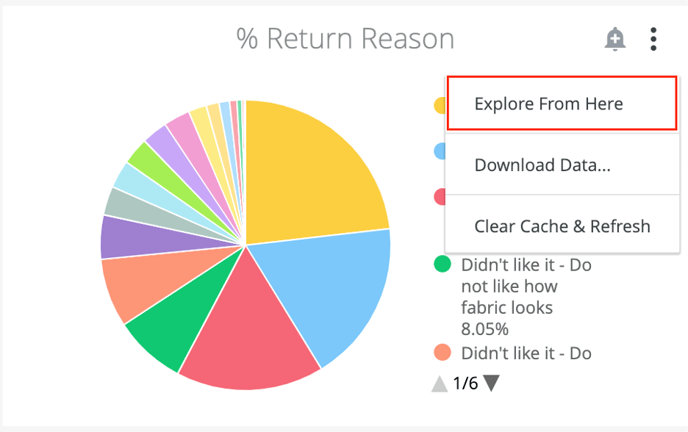 When you "Explore from Here", you are opening the Explore interface, which is the user interface to query the database.
When entering the explore interface from an existing tile or Look, you will see how the query was constructed. In this case, you will see the number of returned items and the reasons they were returned.
Since the data is being pulled from "Order Line Revenue", you are able to add dimensions such as "Product name", "Product price", "SKU", and many others.
The example below shows how to filter the % Return Reasons by a specific product.
In order to add a filter to run the query on the specific item from the list, follow these steps:
Navigate to the left side of the screen and hover over the desired dimension, in this case Product Name.
Press "FILTER", and you will see the new filter appear in "FILTERS" section at the top of the main explore area.
Input the product name to relevant field in "FILTERS" section.
Press "RUN" in the right hand corner.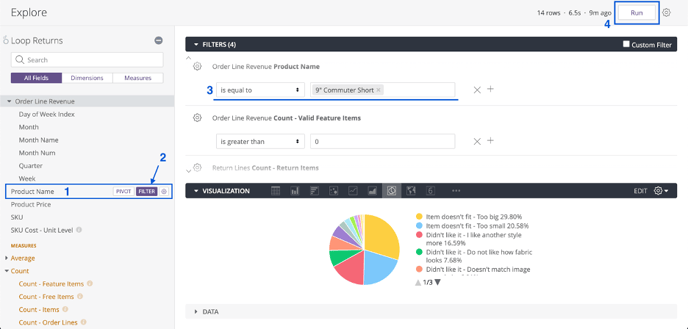 Each time you press the RUN button, the query is being refreshed and the database is returning the results that you asked it to, based on the fields and options you selected.
Note: you can add multiple filters/items at the same time and switch visualizations, allowing you to maximize the flexibility of your data representation.
If you'd like to save your output, simply click on the gear icon next to the Run button, and select either Save as Look or Save to Dashboard.