To enable Daasity to pull your Criteo campaign data, you'll first need to set up an API User in your Criteo account.
To create an API user in Management Center:
Click "Settings" and then "Team"
Select "Create API user"
Enter a contact email address and select the "Business Manager" role
Click "Add user".
You will receive a confirmation message with your client ID and client secret. Store them carefully as you will need them to post requests to the API.
Add the Integration in Daasity
Once you have your client ID and client secret codes handy, login to Daasity Application and
Navigate to "Integrations" page:

Click the "New Integration" button on the top right corner of the page:

Locate "Criteo" under "Ads & marketing Spend" section and give it a click: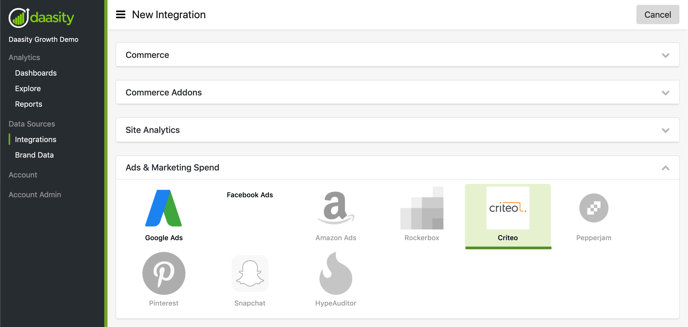 Feel free to give this integration a custom name and input the client ID and client secret codes into respected fields. Select if you're using Cross Device data, then click "Create" in the upper right.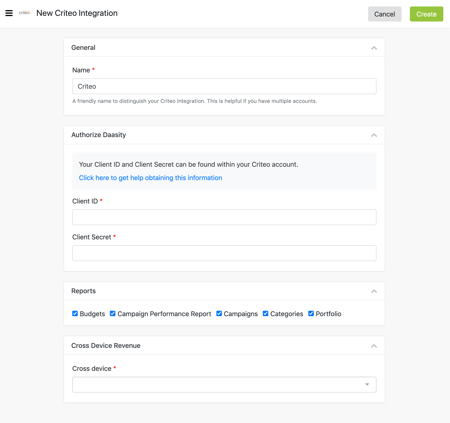 Enter the number of months you would like to load history for and click the blue "Load History" button.
Voila! The integration will now show up on the "Integrations" page: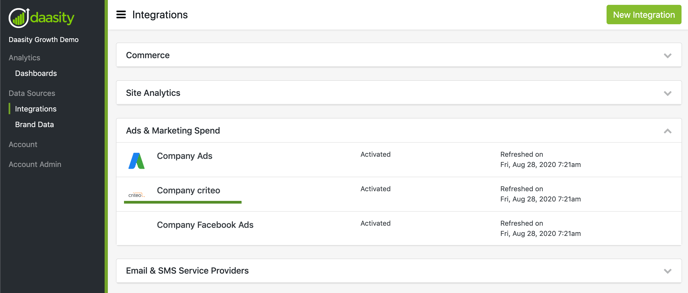 What is "Cross-Device"?
Cross-device targeting is the practice of identifying and delivering ads to a specific audience, across their devices.
This omnichannel strategy allows marketers to reach users with consistent messaging across all their screens: desktop, laptop, mobile, tablet, and TV.