Key Topics
Dashboard Description
Analyzing email and SMS metrics like open rates, click rates, and unsubscribe rates is important, but equally important is understanding how your customers are interacting with your retention mediums as a whole. The Customer Notification Performance dashboard contains visualizations that help merchants understand which customers are engaging / not engaging with email / SMS, and provides out-of-the-box customer segments to allow merchants to directly reach out to customers that are not engaged with special messaging or offers or through other marketing channels. Analysis of this dashboard can answer the following questions:
Which customers are not engaging with your Email and SMS campaigns?
Are certain customer segments more engaged with your Email / SMS campaigns than other segments?
Which products are most often purchased through your notification messages?
There are three sections in the dashboard:
Are Your Customers Engaging?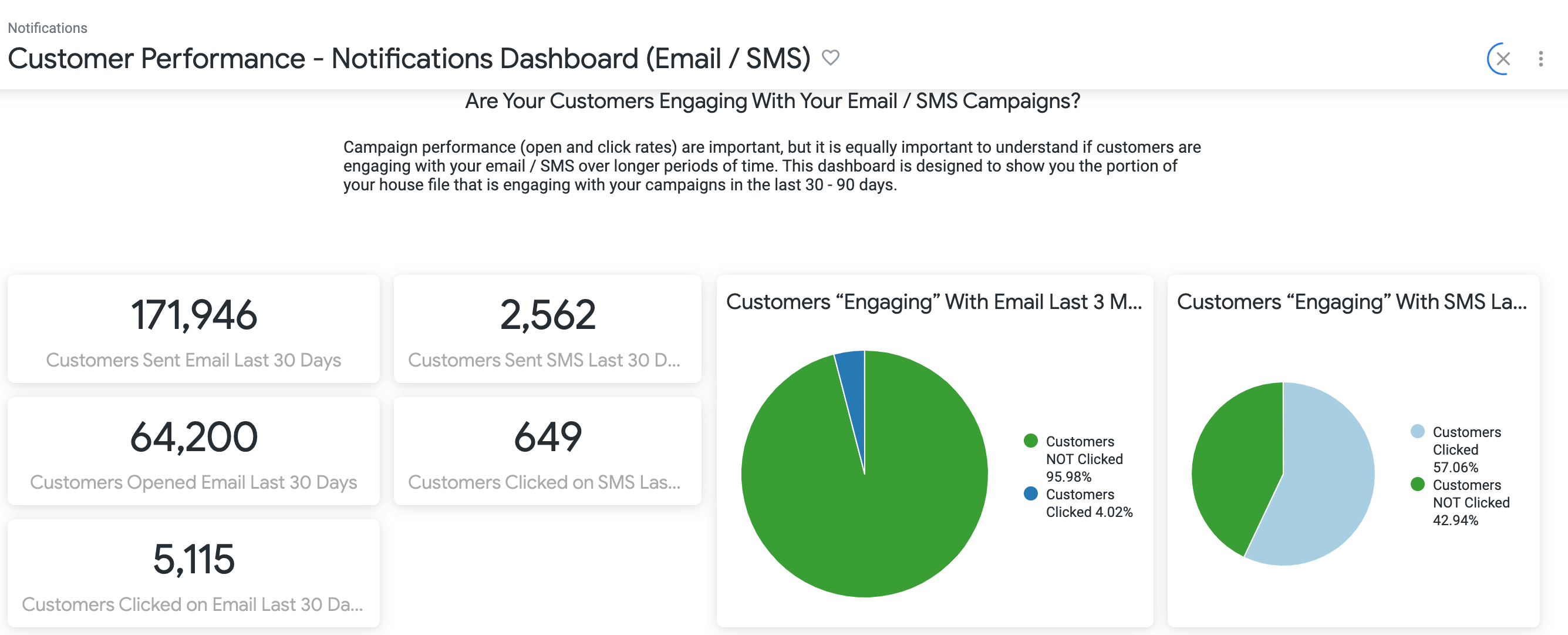 The first section of this dashboard contains visualizations that show how many customers are clicking on emails / SMS messages in the last 3 months.
DATA TIP:
If a large percentage of your house file is not engaging with your email / SMS campaigns, consider the following:
Are you segmenting your customer base in your notification campaigns and providing them with products / price points / offers that are most relevant for them?

Are you using automated email campaigns? Abandoned cart notifications, anniversary notifications (12 months after a purchase), and new customer streams are all highly-relevant campaigns that will keep customers engaged with your emails and SMS notifications.

TEST, TEST, TEST. Every merchant should be constantly running A/B tests to determine which copy, images, colors, pricing, email layouts, etc. produce the best response.
Customer Engagement Segments



The next section contains engagement metrics for specific customer segments (the high value customers, multi buyers, single buyers segments that Daasity creates out-of-the-box for all merchants), as well as the email addresses for customers that have received an email / SMS message but not clicked on one in the last 3 months. Using Daasity's Audiences feature, these lists of customers can be pushed directly to Klaviyo or Attentive to test out special messaging or offers for them, or these segments can be pushed to vendors like Facebook to try and engage these customers through a medium other than email / SMS.
Top Products Purchased Through Notifications

The final sections of the dashboard shows the top products purchased from customers that had received an email or SMS message in the prior 5 days (Daasity's definition of a "view through" order for notifications).
DATA TIP:
Often this list of products will match with products that are prominently featured in your SMS and Email campaigns. But look for products in this list that are NOT featured in your notification campaigns. That indicates that customers are clicking through an email and landing on your site, then searching out that product. It likely makes sense to start featuring that product more prominently in Emails and SMS messages.
Requirements
The Customer Performance - Notifications dashboard requires at least one notification integration with Daasity. It can be an email or an SMS vendor or both.
Reports
Customers Sent Email Last 30 Days
Customers Opened Email Last 30 Days
Customers Click on Email Last 30 Days
Customers Sent SMS Last 30 Days
Customers Clicked on SMS Last 30 Days
Customers "Engaging" With Email Last 3 Months
Customers "Engaging" With SMS Last 3 Months
Customers Received But Not Clicked / Opened Email Last 3 Months
Email "Engaged" File Size
Customer Segments Clicking on Email Last 3 Months
SMS "Engaged" File Size
Customer Segments Clicking on SMS Last 3 Months
Top 10 Products Purchased Through Notifications
Related Resources
As always, if you have questions, email support@daasity.com , we're here to help!