Gorgias helps merchants manage and analyze their customer service tickets and customer services response times
Key Topics
Dashboard Description
The Gorgias Dashboard was created to help merchants with a Gorgias integration understand how their customer service departments are performing, with the goal of creating the best possible customer experience. With this dashboard merchants should be able to answer the following questions:
Are there any customer support tickets that have been outstanding for a long time and need immediate attention?
Is my average response and ticket close time trending up or down?
Is there a common theme among my support tickets? For example, if a specific product is repeatedly mentioned or if you see keywords like "broken" or "poor quality", you may need to investigate if you have product quality issues.
THE IMPORTANCE OF QUALITY CUSTOMER SUPPORT:
Customer satisfaction goes beyond just delivering a high quality product. Solving customer's problems and making them feel like they are heard in a timely manner are both key to delivering a best-in-class customer experience. According to this study by Microsoft, 90% of respondents indicated that customer service is important to their choice of and loyalty to a brand, and 58% of customers show little hesitation in severing the relationship with a brand should customer service fall below their expectations.
Along with improving repurchase rates and increasing LTV, high quality customer support can create brand evangelists that will tell everyone that will listen how great your company is. And by analyzing this data you can often determine where problems are popping up with specific products or with your business model.
There are four primary sections to this dashboard:
Overall Ticket Metrics

The top section of the dashboard focuses on overall metrics for your tickets for this week vs the week prior. Look for large swings in total tickets as well as response / resolution time to identify any potential issues. A drastic increase in total tickets could mean that there is a consistent problem with your customers that needs to be addressed, while an increase in response or resolution time could create unhappy customers.
Ticket Details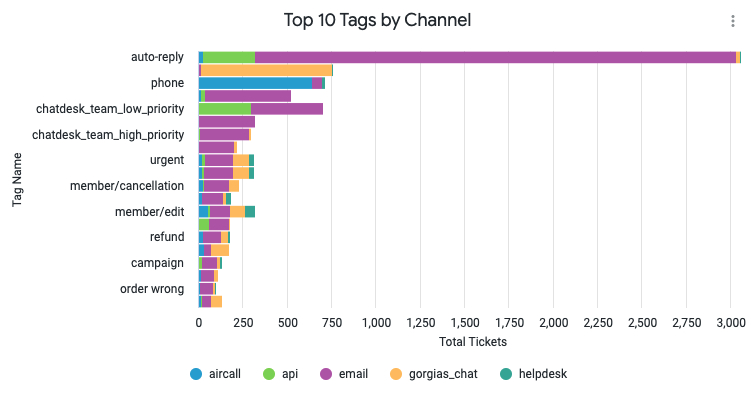 These five visualizations give you more details around where your tickets are coming from and how well your team is doing at addressing tickets.
Tickets by channel visualizations are showing you which channels customers used when creating tickets. This can help you identify if there is an issue with products or messaging that customers are seeing in a specific channel.
Ticket Status by Ticket Create Date can help you identify very old unresolved tickets. Long wait times for a response or for resolution can kill customer satisfaction, so it may be worthwhile to create a process where a customer support person spends time each day cleaning up these old tickets.
Finally, Top 10 Tags by Channel shows you the most commonly tagged keywords in tickets and the channels that those tickets were created in. This visualization can be a great way to identify recurring issues that may require a deeper dive.
SPOTTING RECURRING ISSUES:
Some common recurring tags that may indicate a bigger issue and some steps to take to investigate / mitigate:
Order Wrong: If you see a lot of these tags, you may want to walk through your fulfillment process to see if customers are getting shipped the wrong item
Doesn't Fit or Size Incorrect: If you are repeatedly seeing sizing issues, consider being very upfront about the fit of your apparel on your product pages. If this issue continues, consider discussing the fit with your supplier to make it more true to common measurements.
Shipping Charges: Most customers expect free shipping for standard-sized items or above a certain cart value, so if you are charging shipping you may receive complaints. Also keep in mind that customers may be surprised by shipping charges that show up in the very last checkout step; testing more clarity about your shipping charges in your checkout process may help alleviate this issue (but beware of decreasing conversion when doing this).
Item Not Delivered or Long Delivery Time: Tags related to delivery times should be investigated immediately. Use our Operations dashboard to understand if there are specific zip codes that are taking longer than usual to deliver to, or if a specific carrier (UPS / USPS / FedEx) is taking longer than expected.
Response / Close Rate Trends Over Time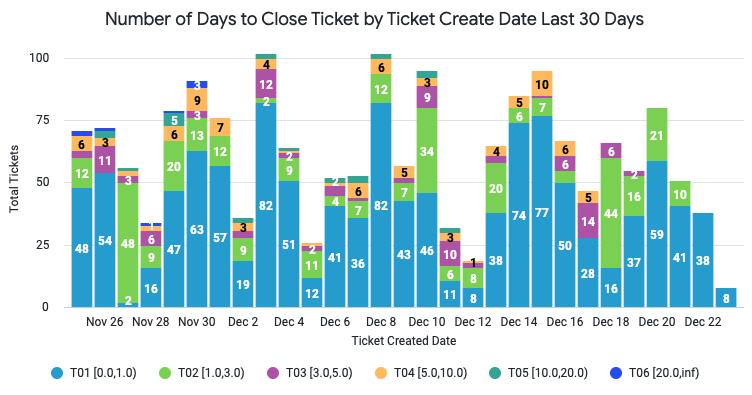 These visualizations show trends in the response and resolution times for your tickets.
Ticket Text

The final visualization is a word cloud that shows commonly tagged keywords.
Requirements
The Gorgias dashboard requires a Gorgias integration
Reports
Median Response Time in Total Hours
Median Resolution Time in Total Hours
Tickets Resolved in One Touch
Total Tickets Comparison
Tickets by Channel Last 4 Weeks
Tickets by Channel Comparison
Ticket Status by Ticket Create Date Last 30 Days
Total Tickets Submitted by Week
Top 10 Tags by Channel
Number of Days to Close Ticket by Ticket Create Date Last 30 Days
Median Resolution Time by Week
Median Response Time by Week
Ticket Tag Wordcloud
Related Resources
Still have questions? We're here to help! Please email Support@Daasity.com for assistance!