The Vendor-Reported Marketing Performance Dashboard displays high-level KPIs from All integrated Marketing Vendors. The built-in Cross-Filtering feature allows you to drill-down into specific Campaigns, Ad Sets and Ad Names.
Explorer Used to Build Dashboard
Vendor-Reported Marketing Performance
Dashboard Highlights
The Vendor-Reported Marketing Performance Dashboard allows you to Dive into All of your Ad Platforms at ALL levels in one all-encompassing Dashboard.
You can see Ad performance at each Level:
Channel
Vendor
Campaign
Ad Set
Ad Name
NOTE: This Dashboard Does NOT tie into Shopify or Goggle Analytics – This Data is Pulled straight from each Vendor.
Vendor Performance Side-By-Side Comparison

Dashboard Sections
Performance Drill-Down
Clicking on a Campaign Name or Ad Set Name will Isolate the Ad Campaign and drill-down to reveal its performance.

Built-In Cross-Filtering Allows for Drill-Down Filter Capabilities
You can click on a Vendor and "Drill-Down" into ALL performance reports for clearer visibility. You can continue to "Drill-Down" into Campaigns, Ad sets and Ad Names.
Cross Filtering Example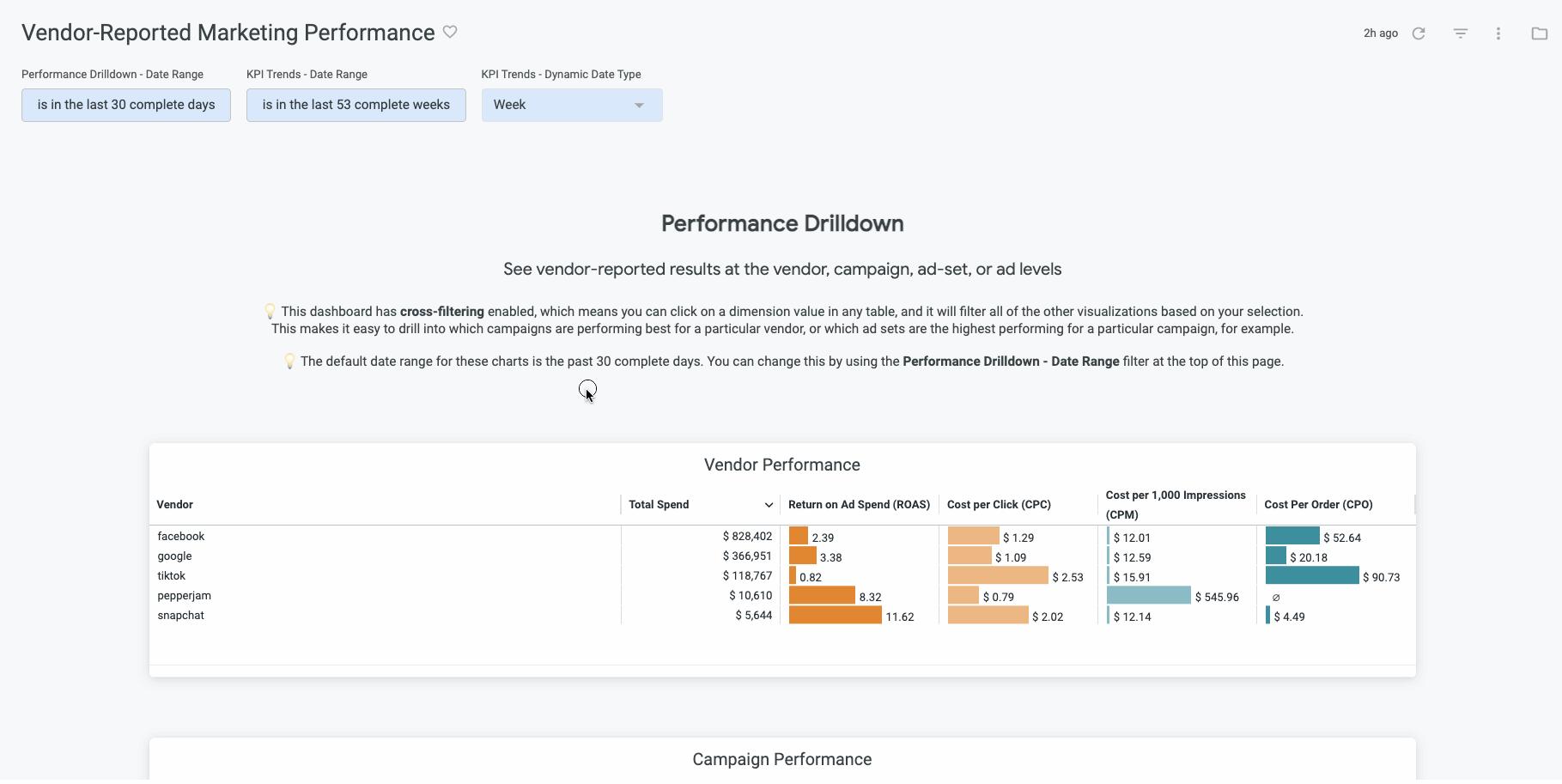 KPI Trends
This section gives you a broader view of how your marketing vendors have been performing over time.

This section shows ROAS and Spend for each Vendor by 'Week' (by default). You can change the date granularity by using the KPI Trends - Dynamic Date Type Filter at the top of the dashboard.

Data Tip: Easily compare the Last Complete Week vs the Same Week Last Year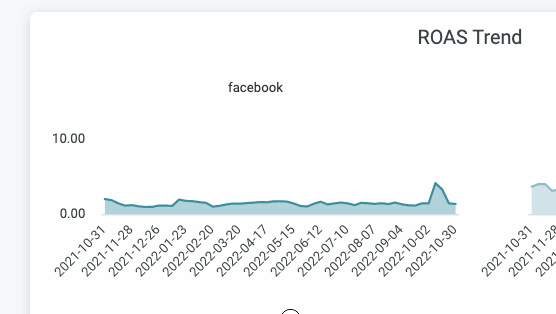 We set up these charts so that they Default to showing you the Last 53 complete Weeks of performance. You can hover over the first and last data points on the chart to compare last week's performance to the performance for the same week last year.
Explorer - Vendor-Reported Marketing Performance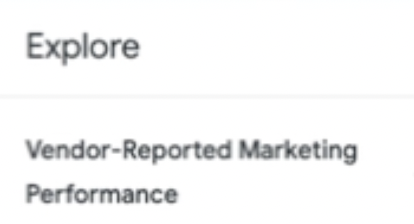 The Campaign Name and Campaign Status are pulled At Time of Last Extractor pull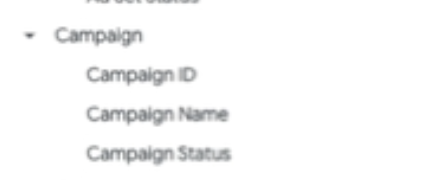 NOTE: If you Re-Name the Campaign it will show only the recent value. If you turn off the Campaign or Disable it - it will only show the most recent value for the Status.