The Amazon Ads extractor allows merchants to combine Amazon Ads data with other marketing vendors so that merchants can evaluate company-wide marketing efficiency across different marketing platforms.
Key Topics
List as bullet points the key topics outlined in this article
Integration Availability
This integration is available for:
Extraction Overview
Daasity extracts data from 3 Amazon Ads solutions - Amazon Sponsored Products, Amazon Sponsored Display, and Amazon Sponsored Brands.
Amazon Sponsored Products are cost-per-click Amazon ads that help customers discover and purchase products that you sell on Amazon with ads that appear in shopping results and on product pages.
Amazon Sponsored Display reaches relevant audiences who are browsing, discovering, or purchasing product on or off Amazon with ads that may appear on the Amazon home page, product detail pages, or shopping result pages as well as third-party websites and apps.
Amazon Sponsored Brands are cost-per-click (CPC) ads that feature your brand logo, a custom headline, and multiple products. These ads appear in relevant shopping results and help drive discovery of your brand among customers shopping for products like yours.
Amazon Ads API uses OAuth 2.0 for authenticating clients. Merchants will need to provide their SellerCentral login credentials and "authorize" Daasity to access their account.
The API parameters below outline what we need to obtain access_tokens thus to access data. Access token is only valid for 60 mins.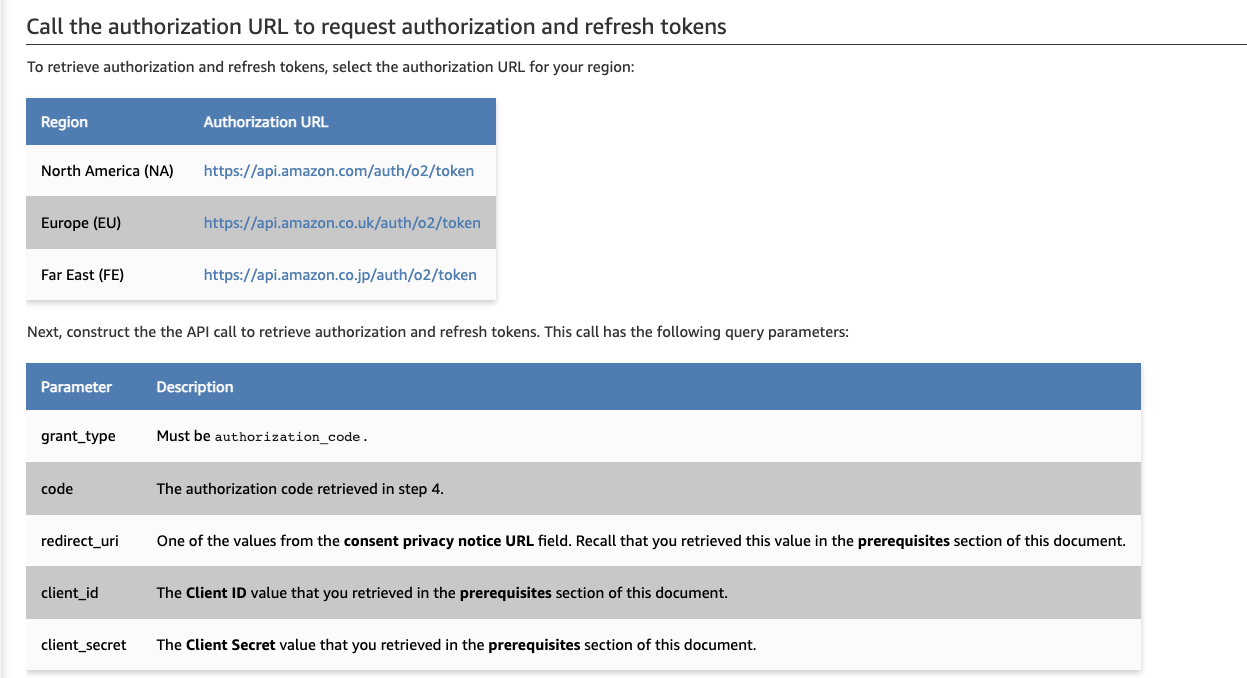 See references below
https://advertising.amazon.com/API/docs/en-us/setting-up/account-setup
https://advertising.amazon.com/API/docs/en-us/setting-up/generate-api-tokens
https://advertising.amazon.com/API/docs/en-us/get-started/sandbox-environment
https://advertising.amazon.com/API/docs/en-us/get-started/developer-notes
Entity Relationship Diagram (ERD)
Amazon Ads Sponsored Products ERD
Amazon Ads Sponsored Display ERD
Amazon Ads Sponsored Brands ERD
Sponsored Products Tables
Profiles
Data is retrieved from Amazon Ads API endpoint: https://advertising-api.amazon.com/v2/profiles
Type of data refresh: UPSERT
Table Name

| | |
| --- | --- |
| JSON Element | Database Column |
| ProfileID | profile_id |
| CountryCode | country_code |
| DailyBudget | daily_budget |
| Timezone | timezone |
| AccountInfo.marketplacestringid | account_info_marketplace_string_id |
| Accountinfo.id | account_info_id |
| Accountinfo.type | account_info_type |
Sponsored Products Campaigns
Data is retrieved via API endpoint: https://advertising-api.amazon.com/v2/sp/campaigns/extended
Type of data refresh: UPSERT
Table Name

| | |
| --- | --- |
| JSON Element | Database Column |
| CampaignID | campaign_id |
| Name | campaign_name |
| CampaignType | campaign_type |
| TargetingType | targeting_type |
| PremiumBidAdjustment | premium_bid_adjustments |
| DailyBudget | daily_budget |
| StartDate | start_date |
| State | state |
| PortfolioID | portfolio_id |
| ServingStatus | serving_status |
| CreationDate | created_at |
| LastUpdatedDate | updated_at |
Sponsored Products Campaigns Bidding Strategy
Data is retrieved via API endpoint: https://advertising-api.amazon.com/v2/sp/campaigns/extended
Type of data refresh: UPSERT
Table Name

| | |
| --- | --- |
| CampaignID | campaign_id |
| Bidding.Strategy | bid_strategy |
| Bidding.Adjustments.Predicate | bid_adjustment_predicate |
| Bidding.Adjustments.Percentage | bid_adjustment_percentage |
Sponsored Products Ad Groups
Data is retrieved via API endpoint: https://advertising-api.amazon.com/v2/sp/adgroups/extended
Type of data refresh: UPSERT
Table Name

| | |
| --- | --- |
| JSON Element | Database Column |
| AdgroupID | adgroup_id |
| Name | adgroup_name |
| CampaignID | campaign_id |
| DefaultBid | default_bid |
| State | state |
| ServingStatus | serving_status |
| CreationDate | created_at |
| LastUpdatedDate | updated_at |
Sponsored Products Ad Groups Keywords
Data is retrieved via API endpoint: https://advertising-api.amazon.com/v2/sp/keywords/extended
Type of data refresh: UPSERT
Table Name

| | |
| --- | --- |
| JSON Element | Database Column |
| KeywordID | keyword_id |
| AdgroupID | adgroup_id |
| CampaignID | campaign_id |
| KeywordText | keyword_text |
| MatchType | match_type |
| State | state |
| Bid | bid |
| ServingStatus | serving_status |
| CreationDate | created_at |
| LastUpdatedDate | updated_at |
Sponsored Products Product Ads
Data is retrieved via API endpoint:https://advertising-api.amazon.com/v2/sp/productAds/extended
Type of data refresh: UPSERT
Table Name

| | |
| --- | --- |
| JSON Element | Database Column |
| adID | ad_id |
| AdgroupID | adgroup_id |
| campaignid | campaign_id |
| asin | asin |
| sku | sku |
| state | state |
| ServingStatus | serving_status |
| CreationDate | created_at |
| LastUpdatedDate | updated_at |
Sponsored Products Report
Data is retrieved via API enpoints POST:
https://advertising-api.amazon.com/v2/sp/campaigns/report
https://advertising-api.amazon.com/v2/sp/keywords/report
https://advertising-api.amazon.com/v2/sp/adGroups/report
https://advertising-api.amazon.com/v2/sp/productads/report
The report ID generated from above can be access through GET: https://advertising-api.amazon.com/v2/{report_id}/download
Table Name

| | |
| --- | --- |
| JSON Element | Database Column |
| ReportType(campaign, keyword, adgroup, product ads) | report_type |
| Bigplus | bigplus |
| Date | report_date |
| Segment | segment |
| CampaignName | campaign_name |
| CampaignID | campaign_id |
| AdgroupName | adgroup_name |
| AdgroupID | adgroup_id |
| KeywordID | keyword_id |
| KeywordText | keyword_text |
| MatchType | match_type |
| CampaignStatus | campaign_status |
| CampaignBudget | campaign_budget |
| TargetID | target_id |
| TargetingExpression | targeting_expression |
| TargetingText | targeting_text |
| TargetingType | targeting_type |
| Impressions | impressions |
| Clicks | clicks |
| Cost | cost |
| Currency | currency |
| ASIN | asin |
| Other_ASIN | other_asin |
| SKU | sku |
| attributedConversions1d | attributed_conversions_1d |
| attributedConversions7d | attributed_conversions_7d |
| attributedConversions14d | attributed_conversion_14d |
| attributedConversions30d | attributed_conversion_30d |
| attributedConversions1dSameSKU | attributed_conversions_1d_same_sku |
| attributedConversions7dSameSKU | attributed_conversions_7d_same_sku |
| attributedConversions14dSameSKU | attributed_conversions_14d_same_sku |
| attributedConversions30dSameSKU | attributed_conversions_30d_same_sku |
| attributedUnitsOrdered1d | attributed_units_ordered_1d |
| attributedUnitsOrdered7d | attributed_units_ordered_7d |
| attributedUnitsOrdered14d | attributed_units_ordered_14d |
| attributedUnitsOrdered30d | attributed_units_ordered_30d |
| attributedUnitsOrdered1dOtherSKU | attributed_units_ordered_1d_osku |
| attributedUnitsOrdered7dOtherSKU | attributed_units_ordered_7d_osku |
| attributedUnitsOrdered14dOtherSKU | attributed_units_ordered_14d_osku |
| attributedUnitsOrdered30dOtherSKU | attributed_units_ordered_30d_osku |
| attributedSales1d | attributed_sales_1d |
| attributedSales7d | attributed_sales_7d |
| attributedSales14d | attributed_sales_14d |
| attributedSales30d | attributed_sales_30d |
| attributedSales1dSameSKU | attributed_sales_1d_same_sku |
| attributedSales7dSameSKU | attributed_sales_7d_same_sku |
| attributedSales14dSameSKU | attributed_sales_14d_same_sku |
| attributedSales30dSameSKU | attributed_sales_30d_same_sku |
| attributedSales1dOtherSKU | attributed_sales_1d_osku |
| attributedSales7dOtherSKU | attributed_sales_7d_osku |
| attributedSales14dOtherSKU | attributed_sales_14d_osku |
| attributedSales30dOtherSKU | attributed_sales_30d_osku |
| attributedUnitsOrdered1dSameSKU | attributed_units_ordered_1d_same_sku |
| attributedUnitsOrdered7dSameSKU | attributed_units_ordered_7d_same_sku |
| attributedUnitsOrdered14dSameSKU | attributed_units_ordered_14d_same_sku |
| attributedUnitsOrdered30dSameSKU | attributed_units_ordered_30d_same_sku |
Sponsored Display Tables
Sponsored Display Campaigns
Data is retrieved via API endpoint: https://advertising-api.amazon.com/v2/sd/campaigns/extended
Type of data refresh: UPSERT
Table Name

| | |
| --- | --- |
| JSON Element | Database Column |
| CampaignID | campaign_id |
| Name | campaign_name |
| Tactic | tactic |
| StartDate | start_date |
| State | state |
| Budget | budget |
| ServingStatus | serving_status |
| CreationDate | created_at |
| LastUpdatedDate | updated_at |
| budgetType | budget_type |
| costType | cost_type |
| deliveryProfile | delivery_profile |
Sponsored Display Ad Groups
Data is retrieved via API endpoint: https://advertising-api.amazon.com/v2/sp/adgroups/extended
Type of data refresh: UPSERT
Table Name

| | |
| --- | --- |
| JSON Element | Database Column |
| AdgroupID | adgroup_id |
| Name | adgroup_name |
| CampaignID | campaign_id |
| DefaultBid | default_bid |
| State | state |
| ServingStatus | serving_status |
| CreationDate | created_at |
| LastUpdatedDate | updated_at |
| tactic | tactic |
Sponsored Display Targets
Data is retrieved via API endpoint:https://advertising-api.amazon.com/v2/sd/targets/extended
Type of data refresh: UPSERT
Table Name

| | |
| --- | --- |
| JSON Element | Database Column |
| AdgroupID | adgroup_id |
| Bid | bid |
| CreationDate | created_at |
| ExpressionType | expression_type |
| state | state |
| ServingStatus | serving_status |
| targetID | target_id |
| LastUpdatedDate | updated_at |
Sponsored Display Targets Expression
Data is retrieved via API endpoint:https://advertising-api.amazon.com/v2/sd/targets/extended
Type of data refresh: UPSERT
Table Name

| | |
| --- | --- |
| JSON Element | Database Column |
| AdgroupID | adgroup_id |
| targetID | target_id |
| ExpressionType | expression_type |
| key | type |
| value | value |
Sponsored Display Product Ads
Data is retrieved via API endpoint:https://advertising-api.amazon.com/v2/sd/productAds/extended
Type of data refresh: UPSERT
Table Name

| | |
| --- | --- |
| JSON Element | Database Column |
| adID | ad_id |
| AdgroupID | adgroup_id |
| campaignid | campaign_id |
| asin | asin |
| sku | sku |
| state | state |
| ServingStatus | serving_status |
| CreationDate | created_at |
| LastUpdatedDate | updated_at |
Sponsored Display Report
Data is retrieved via API enpoints POST:
https://advertising-api.amazon.com/v2/sd/campaigns/report
https://advertising-api.amazon.com/v2/sd/adGroups/report
https://advertising-api.amazon.com/v2/sd/productads/report
The report ID generated from above can be access through GET: https://advertising-api.amazon.com/v2/{report_id}/download
Table Name

| | |
| --- | --- |
| JSON Element | Database Column |
| ReportType(campaign, adgroup, product ads) | report_type |
| Tactic | tactic |
| Date | report_date |
| CampaignName | campaign_name |
| CampaignID | campaign_id |
| Impressions | impressions |
| Clicks | clicks |
| Cost | cost |
| Currency | currency |
| attributedConversions1d | attributed_conversions_1d |
| attributedConversions7d | attributed_conversions_7d |
| attributedConversions14d | attributed_conversion_14d |
| attributedConversions30d | attributed_conversion_30d |
| attributedConversions1dSameSKU | attributed_conversions_1d_same_sku |
| attributedConversions7dSameSKU | attributed_conversions_7d_same_sku |
| attributedConversions14dSameSKU | attributed_conversions_14d_same_sku |
| attributedConversions30dSameSKU | attributed_conversions_30d_same_sku |
| attributedUnitsOrdered1d | attributed_units_ordered_1d |
| attributedUnitsOrdered7d | attributed_units_ordered_7d |
| attributedUnitsOrdered14d | attributed_units_ordered_14d |
| attributedUnitsOrdered30d | attributed_units_ordered_30d |
| attributedSales1d | attributed_sales_1d |
| attributedSales7d | attributed_sales_7d |
| attributedSales14d | attributed_sales_14d |
| attributedSales30d | attributed_sales_30d |
| attributedSales1dSameSKU | attributed_sales_1d_same_sku |
| attributedSales7dSameSKU | attributed_sales_7d_same_sku |
| attributedSales14dSameSKU | attributed_sales_14d_same_sku |
| attributedSales30dSameSKU | attributed_sales_30d_same_sku |
| adGroupName | ad_group_name |
| adGroupID | ad_group_id |
| ASIN | asin |
| SKU | sku |
| adID | ad_id |
Sponsored Brands Tables
Sponsored Brands Campaigns
Data is retrieved via API endpoint: https://advertising-api.amazon.com/v2/sb/campaigns/extended
Type of data refresh: UPSERT
Table Name

| | |
| --- | --- |
| JSON Element | Database Column |
| name | name |
| budget | budget |
| bidOptimization | bid_optimization |
| portfolioID | portfolio_id |
| adFormat | ad_format |
| CampaignID | campaign_id |
| budgetType | budget_type |
| startDate | start_date |
| State | state |
| ServingStatus | serving_status |
| Creative.brandName | creative_brand_name |
| Creative.brandLogoAssetID | creative_brand_logo_asset_id |
| Creative.headline | creative_headline |
| Creative.shouldOptimizeAsins | creative_should_optimize_asins |
| Creative.asins | creative_asins |
| Creative.brandLogoUrl | creative_brand_logo_url |
| landingPage.pageType | landing_page_type |
| LandingPage.url | landing_page_url |
Sponsored Brands Ad Groups
Data is retrieved via API endpoint: https://advertising-api.amazon.com/v2/sb/adgroups/extended
Type of data refresh: UPSERT
Table Name

| | |
| --- | --- |
| JSON Element | Database Column |
| AdgroupID | adgroup_id |
| Name | adgroup_name |
| CampaignID | campaign_id |
Sponsored Brands Keywords
Data is retrieved via API endpoint: https://advertising-api.amazon.com/sb/keywords
Type of data refresh: UPSERT
Table Name

| | |
| --- | --- |
| JSON Element | Database Column |
| KeywordID | keyword_id |
| AdgroupID | adgroup_id |
| CampaignID | campaign_id |
| KeywordText | keyword_text |
| MatchType | match_type |
| State | state |
| Bid | bid |
Sponsored Brands Negative Keywords
Data is retrieved via API endpoint:https://advertising-api.amazon.com/sb/negativeKeywords
Type of data refresh: UPSERT
Table Name

| | |
| --- | --- |
| JSON Element | Database Column |
| KeywordID | keyword_id |
| AdgroupID | adgroup_id |
| CampaignID | campaign_id |
| KeywordText | keyword_text |
| MatchType | match_type |
| State | state |
Sponsored Brands Product Targeting
Data is retrieved via API endpoint:https://advertising-api.amazon.com/sb/targets/list
Type of data refresh: UPSERT
Table Name

| | |
| --- | --- |
| JSON Element | Database Column |
| TargetID | target_id |
| AdgroupID | adgroup_id |
| CampaignID | campaign_id |
| Bid | bid |
| State | state |
Sponsored Brands Product Targeting Expressions
Data is retrieved via API endpoint:https://advertising-api.amazon.com/sb/targets/list
Type of data refresh: UPSERT
Table Name

| | |
| --- | --- |
| JSON Element | Database Column |
| TargetID | target_id |
| AdgroupID | adgroup_id |
| CampaignID | campaign_id |
| ExpressionType | expression_type |
| Type | type |
| Value | value |
Sponsored Brands Brands
Data is retrieved via API endpoint:https://advertising-api.amazon.com/brands
Type of data refresh: UPSERT
Table Name

| | |
| --- | --- |
| JSON Element | Database Column |
| BrandID | brand_id |
| BrandEntityID | brand_entity_id |
| BrandRegistryName | brand_registry_name |
Sponsored Brands Stores
Data is retrieved via API endpoint:https://advertising-api.amazon.com/v2/stores
Type of data refresh: UPSERT
Table Name

| | |
| --- | --- |
| JSON Element | Database Column |
| entityID | entity_id |
| storeName | store_name |
| storePageInfo.storePageID | store_page_id |
| storePageInfo.storePageURL | store_page_url |
| storePageInfo.storePageName | store_page_name |
| brandEntityID | brand_entity_id |
Sponsored Brands Report
Data is retrieved via API enpoints POST:
https://advertising-api.amazon.com/v2/hsa/campaigns/report
https://advertising-api.amazon.com/v2/hsa/adGroups/report
https://advertising-api.amazon.com/v2/hsa/keywords/report
The report ID generated from above can be access through GET: https://advertising-api.amazon.com/v2/{report_id}/download
Table Name

| | |
| --- | --- |
| JSON Element | Database Column |
| ReportType(campaigns, keywords, adgroups) | report_type |
| CreativeType | creative_type |
| Date | report_date |
| Segment | segment |
| CampaignName | campaign_name |
| CampaignID | campaign_id |
| CampaignStatus | campaign_status |
| CampaignBudget | campaign_budget |
| CampaignBudgetType | camapign_budget_type |
| AdgroupName | adgroup_name |
| AdgroupID | adgroup_id |
| KeywordID | keyword_id |
| KeywordText | keyword_text |
| KeywordBid | keyword_bid |
| KeywordStatus | keyword_status |
| TargetID | target_id |
| TargetingExpression | targeting_expression |
| TargetingText | targeting_text |
| TargetingType | targeting_type |
| MatchType | match_type |
| Impressions | impressions |
| Clicks | clicks |
| Cost | cost |
| attributedDetailPageViewsClicks14d | attributed_detail_pageviewclicks_14d |
| attributedSales14d | attributed_sales_14d |
| attributedSales14dSameSKU | attributed_sales_14d_same_sku |
| attributedConversions14d | attributed_conversions_14d |
| attributedConversions14dSameSKU | attributed_conversions_14d_same_sku |
| attributedOrdersNewToBrand14d | attributed_orders_newtobrand_14d |
| attributedOrdersNewToBrandPercentage14d | attributed_orders_newtobrand_percentage_14d |
| attributedOrderRateNewToBrand14d | attributed_order_rate_newtobrand_14d |
| attributedSalesNewToBrand14d | attributed_sales_newtobrand_14d |
| attributedSalesNewToBrandPercentage14d | attributed_sales_newtobrand_percentage_14d |
| unitsSold14d | units_sold_14d |
| dpv14d | dpv_14d |
Release Updates
Related Resources
https://support.daasity.com/knowledge/marketing-dashboard
Check out this Digestible Data video for more information on Amazon Ads data: