How to Setup
Please be sure to sign in (https://app.daasity.com)
Click Integrations
Click New Integration


Scroll down to the Ads / Marketing section and click the Facebook logo.

Confirm or give your Facebook Integration a name, then choose the attribution window that you typically view your Facebook Data in.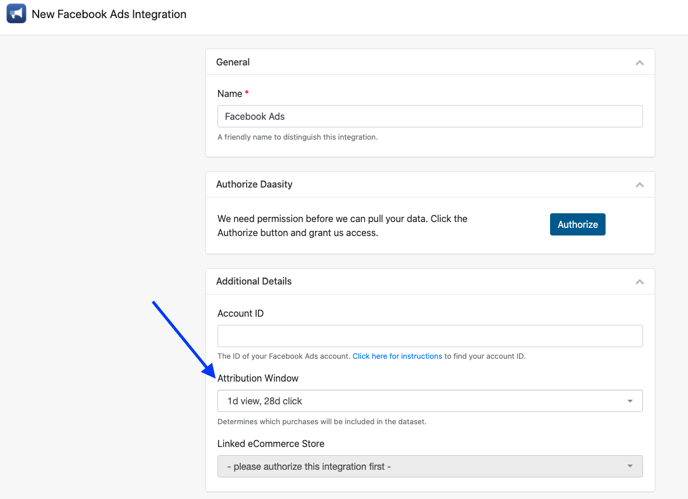 Now you may Authorize the account by clicking the Blue Authorize button.
You will be brought to Facebook and prompted to enter your Facebook password associated with the admin account for your Ads account.
You will also need to find your Facebook Ad Account ID.
The easiest way to find and copy your Ad Account ID is to find it in the Address Bar
Go to Ads Manager.
Find the number in your browser's address bar. If you have trouble locating your ad account ID in the address bar, look for act= in the URL.
When returned to Daasity, click Create in the upper right corner.
When returned to the wizard, click Next.
Please enter the amount of history we'll load (number of months). Click "Start Loading" (blue button).

Your Facebook Ads Integration is now set up and loading history.