New to Daasity? Use this Guide as a starting point to getting the most out of your data
Welcome to Daasity! This Starters Guide will jump start you on the road to making data-driven decisions by helping you set up your Daasity account, integrate all of your data sources, and get familiar with your analyzed data.
Key Topics
How to Navigate the Daasity App
The Daasity App is your starting point for getting your data integrated and jumping into your dashboards. If you are a Pro merchant, when you log in to your account you will see a screen like this: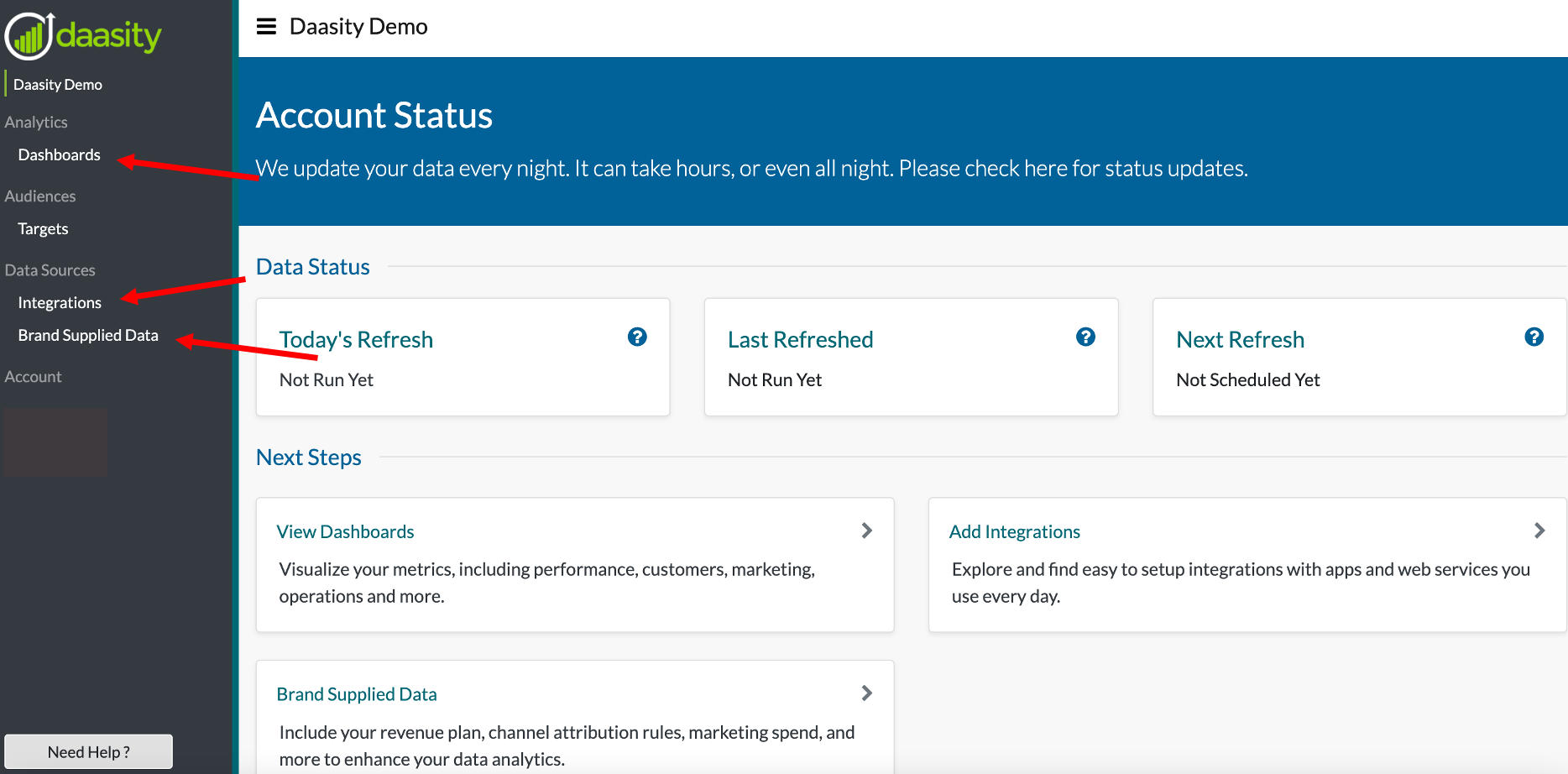 The arrows are pointing out some common navigation points on the left hand nav. Clicking the Dashboards item will open up a new window and take you to your Looker instance. For more on the other left-hand navigation items, see the "Setup Your Integrations" and "Fill Out Your BSD" sections below.
If you are a Growth merchant you will see some additional navigation items: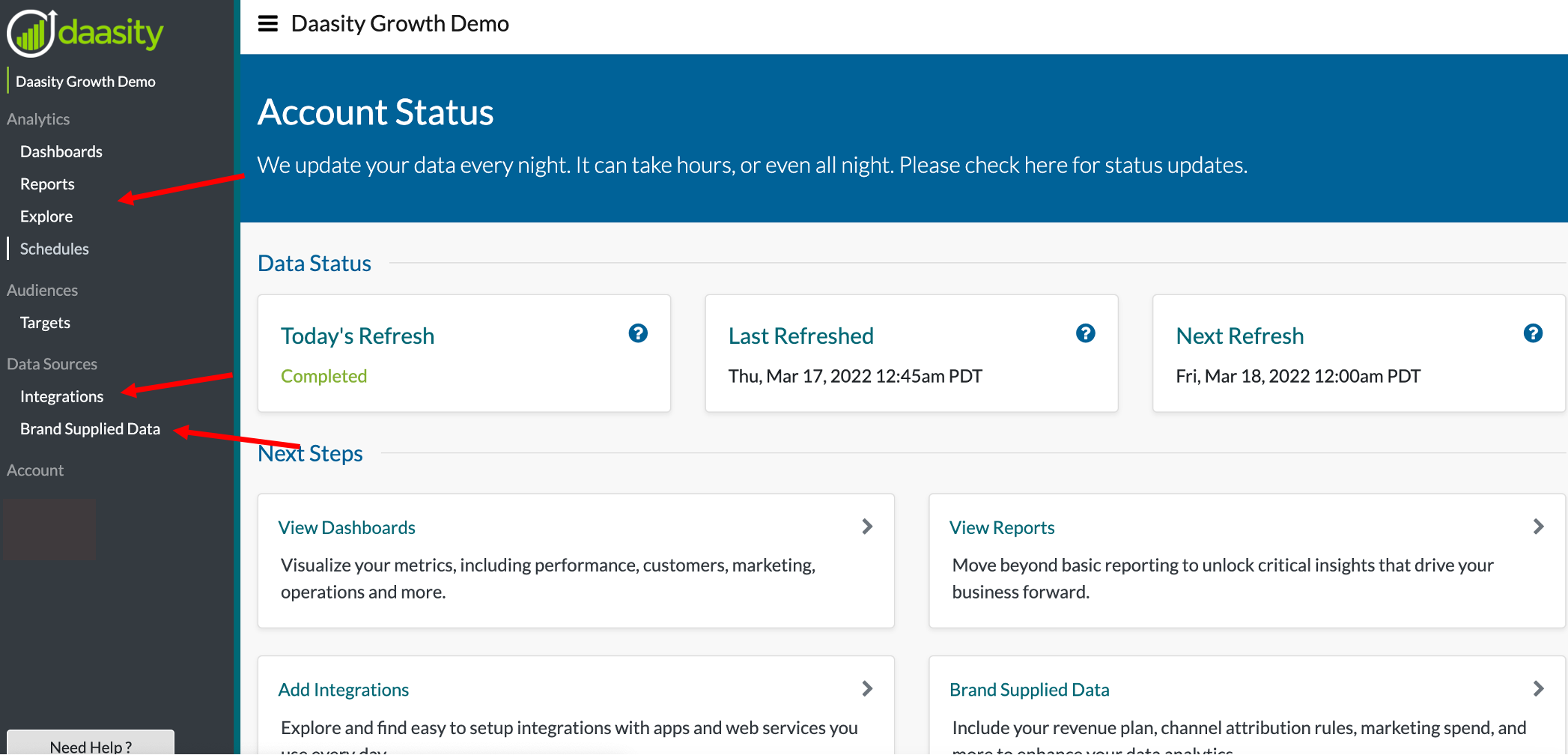 When you click any one of the Dashboards, Reports, Explore, or Schedules items you will see your data, however you will not be transported to a separate Looker instance. Instead you will see your data embedded within the Daasity app.
For more of the Dashboards, Reports, and Explore links, see below.
Setup Your Integrations
Setting up your integrations is the first step to getting your data centralized and analyzed. Setup for most integrations involves entering in your login credentials for the data source and granting Daasity access to extract your data. However, there are some integrations that have a more involved process due to lack of an API or other vendor-specific reasons.
This Knowledge Base has articles walking you through the setup process for every integration. Some of our most popular integrations are listed here:
Amazon Ads [Article Coming Soon]
Attentive (note that this is a slightly more involved setup process)
Also note that we have a Guide to walk a Growth merchant through the setup for the most common integrations. That Guide can be found here.
If you are interested in an integration not listed here, search for it in the search bar at the top of the page. You can see a list of all available integrations in the Daasity app. Simply click on the New Integration button on the Integrations page:

This will take you to the New Integrations page which lists all available integrations.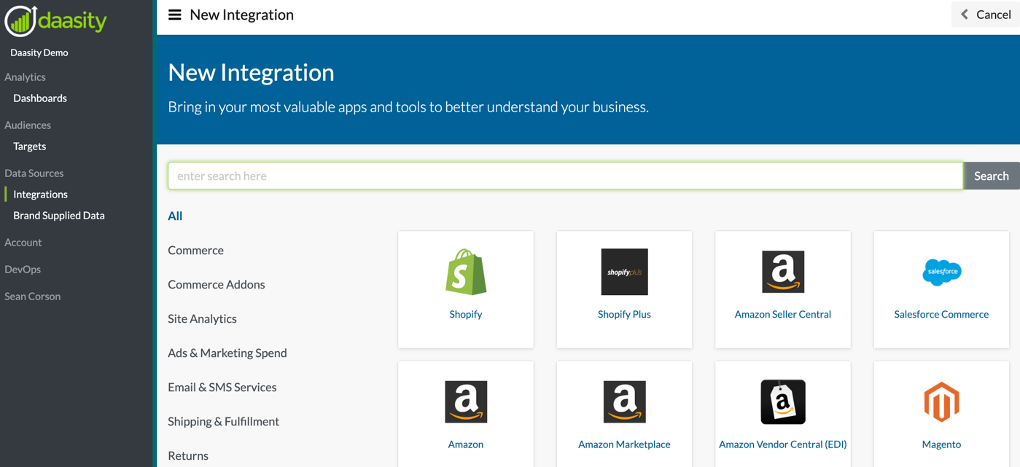 Fill Out Your BSD Sheets
The BSD (Brand Supplied Data) Sheets are designed to allow merchants to add additional data to their data model and enhance the analysis they get from the Daasity dashboards. Adding forecast data, channel mapping, SKU mapping, and other data can help give you advanced insights into business performance. Filling out your BSD sheets is a key step in your Daasity onboarding experience to ensure you get the most out of your Daasity experience.
This article will help you get started with your BSD sheets and understand the power that this additional data brings to your data-driven decision-making.
Making changes to your BSD that you don't see reflected in your data? Check this article as to why this might occur.
Viewing Your Data and Dashboards
Once your data is ingested and your nightly transformation code has run, your transformed data will show up in your visualizations. For Pro merchants you can find those visualizations using the Dashboard link in the left-hand nav. As mentioned this will open a new browser tab and take you to your Looker instance. Once there you can view your dashboards, or you can use Looker to Explore your data.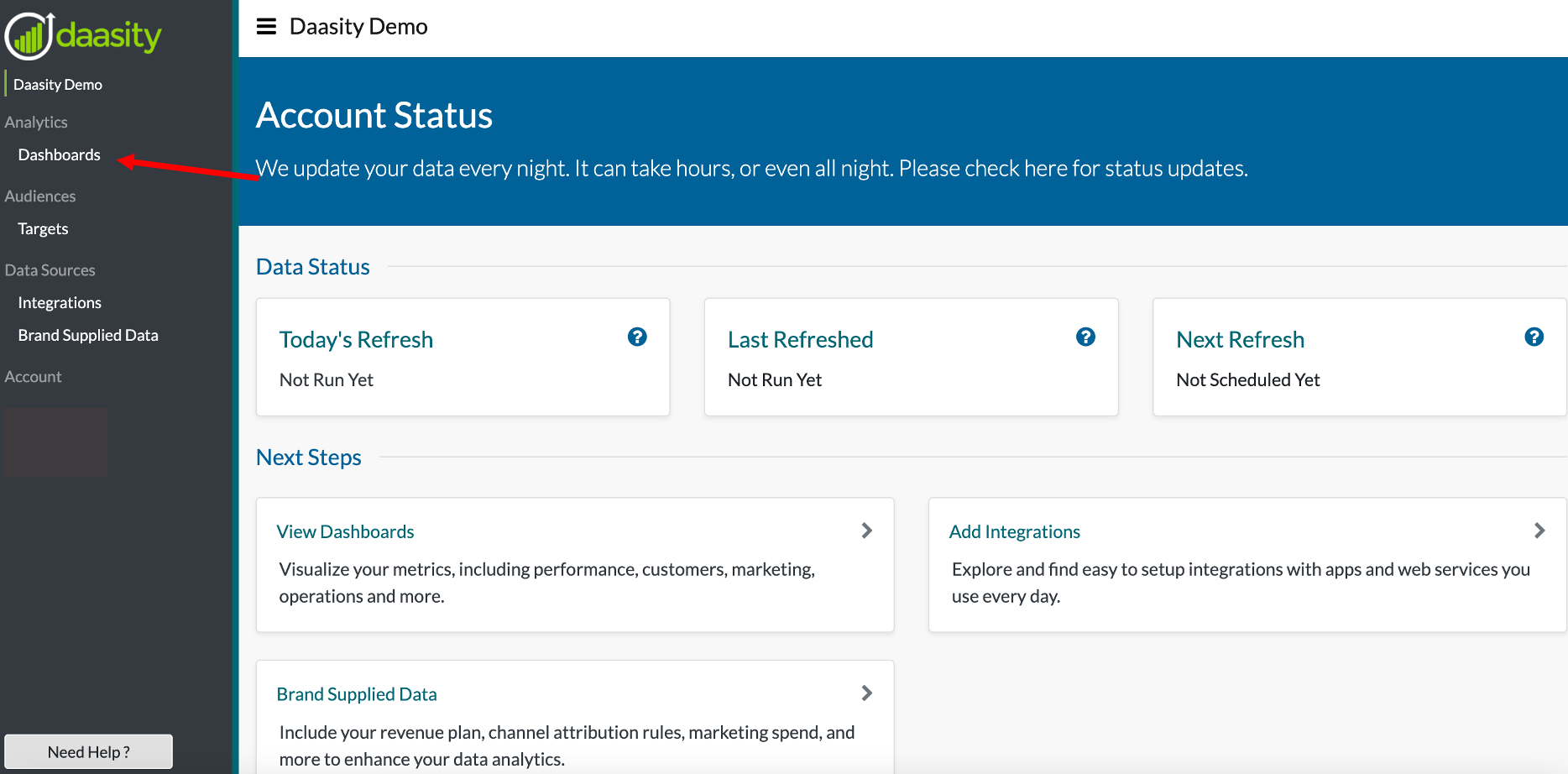 For Growth merchants you can use the Dashboard link to see your available dashboards, the Reports link to see individual visualizations, or the Explore link to dig into the data and create your own visualizations.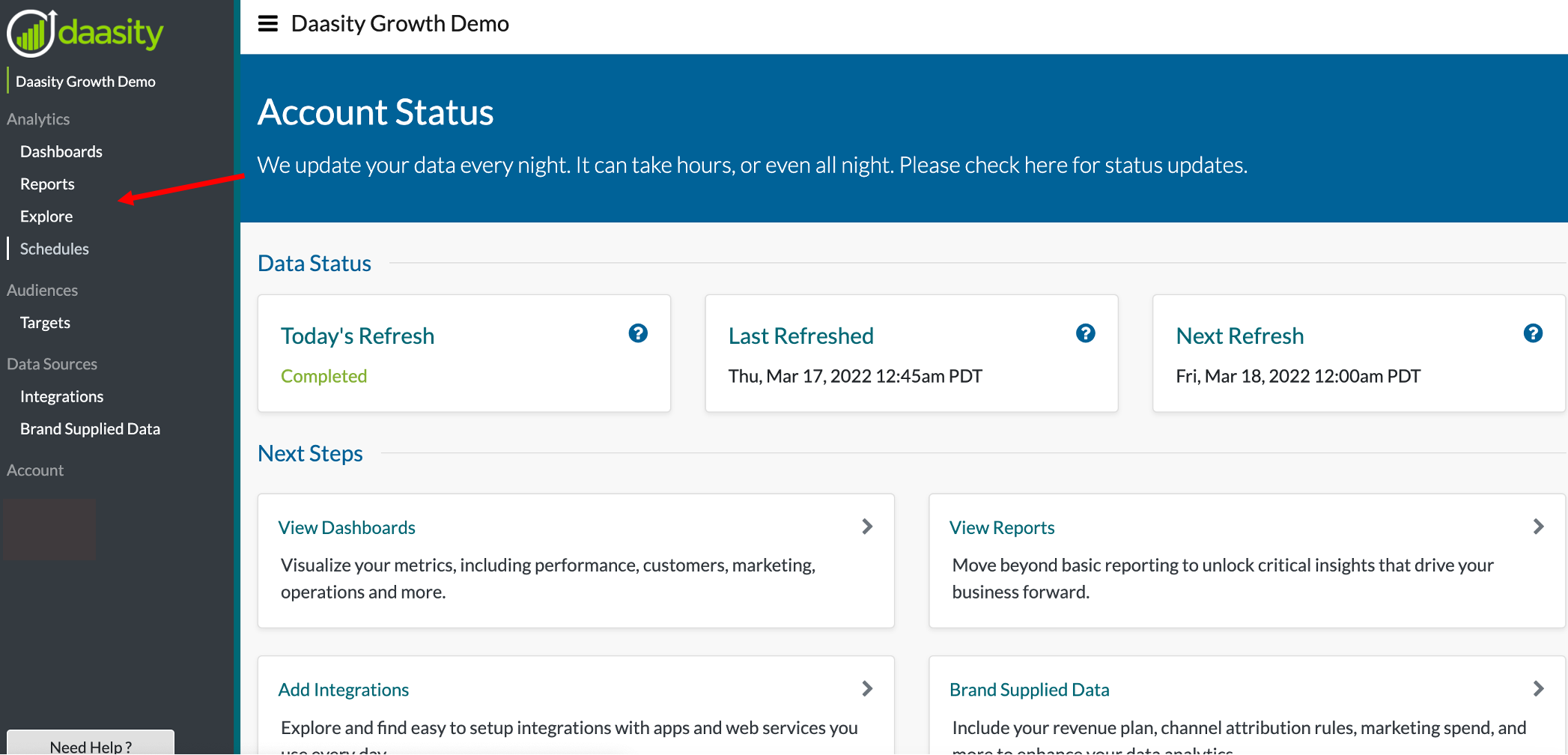 Although Pro and Growth merchants are seeing their data in a slightly different fashion, the Dashboard, Report, and Explore functionality is the same between the products.
For a list of dashboards, check out this article. Note that each of the links in that article leads to an article that discusses the components of each dashboard as well as the decisions you can make using the data contained in each dashboard.
This article explains how dashboards are organized and the basics around navigation and filters.
For more on Daasity Explores see here. You can find lists of explores broken up into relevant sections:
Looker also has extensive documentation on explores and how they work here.
What Is Audiences?
You may notice an additional section in the Daasity app called "Audiences":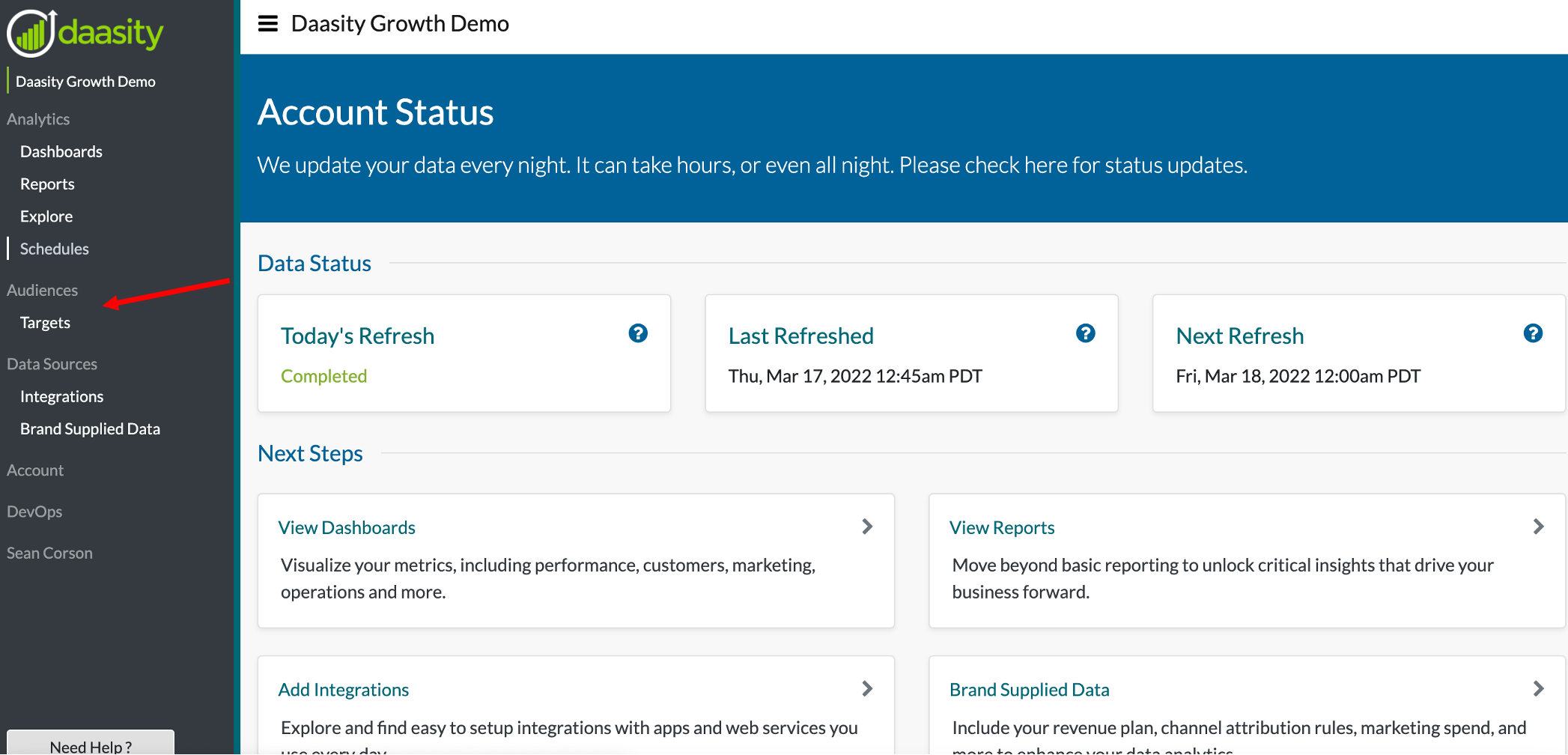 Daasity Audiences allows you to push customer data from your data warehouse into a number of different SaaS and Social Media platforms. Daasity Audiences is built to help you take data from a variety of different data sources and update your SaaS platforms with additional customer data, build custom segments in your SaaS platforms, use Daasity's out-of-the-box customer segments to drive more email / SMS engagement, or trigger events.
Interested in signing up for Audiences? Contact your Merchant Success Manager via support@daasity.com or connect with our Sales team via sales@daasity.com.
Looking for more information about Audiences? This Intro will walk you through the basics, while this article will help you get started.
Understanding Your Data and Making Data-Driven Decisions
You've set up your integrations, history has run, and Daasity has aggregated and transformed your data into a data model capable of delivering you all of the insights you need to efficiently grow your business. Now it's time to use your analyzed data to make impactful decisions. But where do you start?
First, start by focusing on an area of your business where you already have questions or concerns with performance. Perhaps you want to understand where to allocate your marketing spend (see here). Maybe you have had complaints from customers about slow delivery times (see here). Or maybe your potential investors or existing investors want to understand your LTV:CAC ratio (see here). If you don't have any specific questions at the moment, consider some of the following:
How are you performing today vs last year? Are you on pace to grow net sales and orders? (Daily Flash)
If net sales is trending down vs last year, is that due to fewer orders, or lower AOV? (Daily Flash)
Which products are selling well today? Using this information along with the analysis in the inventory dashboard, do you need to prepare for any inventory shortages? (Daily Flash, Inventory)
Which channels and vendors are producing metrics reflective of efficient marketing spend? (Marketing)
Should you increase spend with any vendors? Should you decrease spend with any vendors? (Marketing)
Are customers acquired through Facebook for their first order more valuable than customers acquired through Google? (LTV & RFM)
Are customers that purchase with a discount more valuable than customers that were not acquired with a discount? (LTV & RFM)
What is your LTV-to-CAC ratio and is it improving over time? (LTV & RFM)
How can you segment your customer base to better reach them? (Retention)
What is the average time between purchases for your customers? (Retention)
Which products are purchased when customers repurchase? Are there common connections between the first product purchased and the next product purchased? (Retention, Product)
Are discounts eating up more of your revenue over time? (Orders and Revenue)
Is the distribution of revenue from different order sources (e.g., Shopify vs Amazon) changing over time? (Orders and Revenue)
Are there any products with conversion problems due to the design/setup of the product page? (Product)
Which products should you use as acquisition SKUs? (Product)
Are customers engaging with your Email and SMS campaigns? (Notifications)
Are your products reaching your customers in an acceptable time frame (usually 4 days or less)? (Operations)
Do you have a large number of unfulfilled orders sitting in your distribution center? (Operations)
Should you shift more shipments to a different shipping provider if they are delivering orders more quickly? (Operations)
And for merchants with a subscription program:
There is a lot that you can answer with Daasity! The Daasity platform allows you to make data-driven decisions across your entire organization.
Once you have some key questions outlined in a specific area, open up the following:
The relevant dashboard for that area
The dashboard article in the knowledge base
The Knowledge Base article will explain exactly what is happening in each section of the dashboard and some key takeaways. If you don't see your specific question answered with one of the existing visualizations you may need to use an explore to create your own, or contact support@daasity.com to ask for assistance. With a Premium Support add-on (contact via sales@daasity.com for more information), Daasity can even provide you with a dedicated Merchant Success Manager to help build your visualizations and answer these key questions.
Support Options
Looking for more help? Want to talk to an individual? Daasity has a number of support options and knowledge base content to help you find the answers you need:
KB Articles on Explores and Dashboards will help you navigate your data model and answer questions about specific areas of your business.
Interested in more technical data? Each extractor has documentation that walks through the endpoints we use and an ERD. As an example, here is the Shopify extractor documentation.
There are also articles with data flow diagrams to show how data flows through the Daasity system. Here is the Channel Mapping BSD diagram that shows where channel mapping changes are reflected in your end data.
Still have questions? Feel free to reach out to support@daasity.com for help with any questions you might have and our merchant success team will get you the answers you need.
Need an additional level of support? Reach out to sales@daasity.com to inquire about our Premium Support add-on. With Premium Support, you get a dedicated Merchant Success Manager who can help answer questions, build dashboards, and create customized visualizations. Pro merchants can even have our Merchant Success Managers create completely custom data models and custom data extractions. The Daasity product is flexible enough to support virtually any request for Pro merchants.