The Hourly Flash dashboard gives merchants hour-by-hour order and revenue information with comparisons to the same day last year. It is designed for peak-shopping periods when merchants need to make quick intra-day decisions to optimize results
Key Topics
Dashboard Description
The Hourly Flash dashboard is designed to give merchants an intra-day look into performance and sales. Data is pulled every hour from Shopify and pushed to your Looker instance, allowing you to see gross sales and orders by hour with comparisons against yesterday and the same day last year. Revenue by SKU and a summary of results by hour for every day in the last six days is also included.
There is no transformation code applied to this data, it is raw data straight from Shopify.
To enable the Hourly Flash dashboard you must have hourly processing enabled. Please contact your account manager to get access to hourly processing.
Analysis of this dashboard can help answer questions such as:
How am I performing today vs last year? Am I on pace to grow net sales and orders?
If net sales is trending down vs last year, is that due to fewer orders, or lower AOV?
Which products are selling well today? Using this information along with the analysis in the inventory dashboard, do we need to prepare for any inventory shortages?
MERCHANTS WITH MULTIPLE STORES IN DIFFERENT TIMEZONES OR WITH DIFFERENT CURRENCIES
If you have multiple Shopify stores that are in different timezones or ingesting data in different currencies than this dashboard will not work. This is unadjusted raw Shopify data that is not adjusted for currency conversion or timezones. If you are ingesting data from two stores, the data will be in the local timezone for each store. And if those two stores use two different currencies then several of these visualizations will show an error.
The dashboard contains three distinct sections:
Hourly Results


This section shows hourly results and cumulative results for the current day, as well as sales, order, and unit totals for the current day. The "Last Synced at" tile tells you when the dashboard was last refreshed.
DATA TIP:
The data in this first section can help you understand if current day results are trending below or above both yesterday and the same day last year. During peak periods this becomes extremely important: failing to optimize your performance during peaks can result in major underperformance vs your plan. If intraday performance is lagging vs last year, ask yourself the following questions:
Did you run a promotion or discount last year that you are not running this year?
Have you changed the pricing for some of your top sellers? Increases in pricing may drive higher AOV but fewer orders.
Are you out of inventory for any key SKUs? If top sellers from last year are sold out this year, make sure you have a good substitute product you can feature.
Are there specific marketing channels with high CPO / CPA values? Check the marketing dashboard to see if there are any vendors that are underperforming and if you should be allocating spend to other vendors.
Are you seeing abnormally low conversion rates at any part of the checkout process? The Site Funnels dashboard shows you conversion rates for specific parts of the checkout process. If you see low conversion rates at a specific point you may have a broken link or something that is confusing customers. Try to make your checkout process as frictionless as possible.
Is performance lagging in a specific customer segment? Are new customer numbers lagging or are repurchase rates that are low? You can use the Retention dashboard to understand if there is a specific customer segment that is underperforming.
SKU Results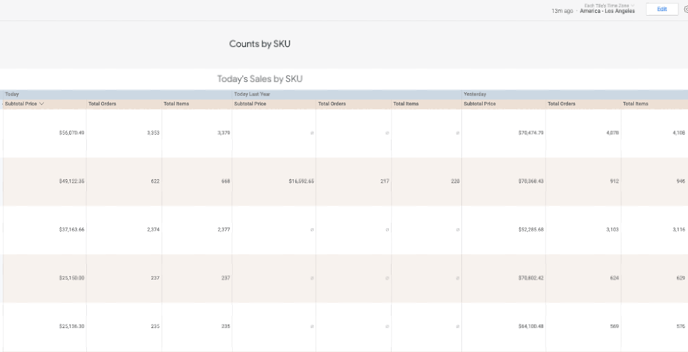 The Sales by SKU section shows total sales, total orders, and total items sold for the current day, the same day last year, and yesterday, all by SKU.
DATA TIP:
To get the most out of this table, consider the following:
Are there any top-selling SKUs that are running low in inventory? This is a key question at peaks and can not be repeated enough. If you are running low on a top-selling item, consider the following:

Raise prices on these items to grab a little extra margin
Make sure you are not featuring these items in any upcoming promotions or currently running advertisements
Demote these products so they are not front and center on your website

Use the Product dashboard to understand which products sell well together or are purchased consecutively (first orders with Product A are often followed with a second order of Product B). This can help you understand if there are other products that you can feature in retention efforts to help drive sales.
Are you using the best SKUs in your acquisition ads? Strong acquisition SKUs should be top sellers, bring in healthy gross margin, and also result in a strong repurchase rate / LTV for customers that purchase them first. You can find this analysis in the Product dashboard as well as the LTV dashboard.
Hourly Combined Sales

The Hourly Combined Sales Look shows total sales, total orders, and total items sold, by hour, for the last six days.
Note that all comparisons to "same day last year" are day-of-week adjusted and holiday adjusted. For example, results for Black Friday 2021 will be compared to results for Black Friday 2020.
Requirements
The hourly dashboard requires that a merchant has a Shopify integration AND that the merchant has hourly ingestion enabled. Growth merchants should have hourly ingestion enabled automatically. Pro merchants may need to contact their TAM or email support@daasity.com to have their Shopify data ingested hourly.
Reports
Hourly Sales Incremental
Hourly Sales Cumulative
Last Synced At
Sales Today
Orders Today
Units Today
Today's Sales by SKU
Hourly Combined Sales, Orders, and Units
Related Resources
Other Hourly Reports Found In The Daasity Reports Folder:
Order Totals Today vs Same Day Last Year
Orders Today as % of Same Day Last Year
Sales Totals Today vs Same Day Last Year
Sales Today as % of Same Day Last Year