Overview
The Inventory Dashboard can assist your brand with pricing and promotions. The Dashboard can also assist with how much inventory you'll need and identify when to purchase.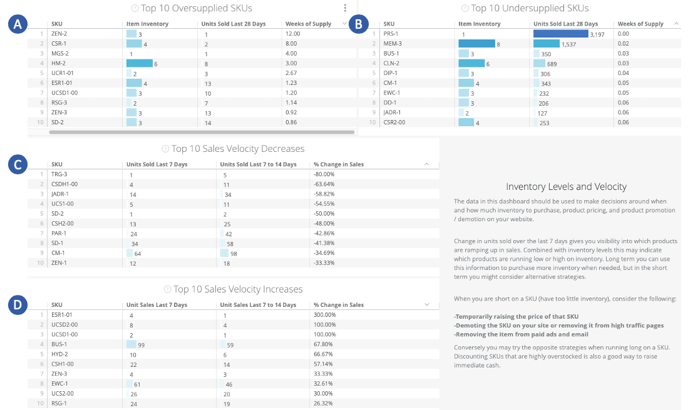 A, B.
Top 10 Over/Undersupplied SKUs - These tiles will list the Top SKUs needing attention. The most important column in each table is the final column, Weeks of Supply. In the example above, you'll notice that SKU ZEN-2 has 12 weeks of inventory supply, while PRS-1 has 0 weeks of supply (back order). Both A and B are measured in 28 day periods.
When you are short on a SKU (have too little inventory), consider the following:
Temporarily raising the price of that SKU if your website is the only place the item is sold
Demoting the SKU on your site or removing it from high traffic pages
Removing the item from paid ads and email
Disabling the SKU on Amazon or other marketplace sellers
C, D.
Top 10 Sales Velocity Increases/Decreases - Consider "Inventory Velocity" as the speed of your inventory being cycled in a specific time period for each item/SKU. These tiles show both Sales Velocity increases and decreases over time periods of "7 days," and "7-14 days." The two time periods highlight the differences in sales for a specific item, over a short amount of time.
If you have an item that is picking up velocity, you'll want to make sure your inventory levels can support the increase.