Key Topics
Dashboard Description
The Marketing Dashboard aggregates and summarizes marketing performance at a company-wide level and by channel and vendor. With the analysis and visualizations in the marketing dashboard, Daasity merchants should be able to identify:
Which channels and vendors are producing metrics reflective of efficient marketing spend?
Should you increase spend with any vendors? Should you decrease spend with any vendors?
Are there major differences between first and last click metrics?
Channels & Vendors are identified either by the marketing integration or in the Marketing Spend and Channel Mapping data you provided.
IMPORTANT!
You must identify a Vendor in both the Channel Mapping & Marketing Spend sheets in order for orders to be properly attributed to that Channel & Vendor. This is important for spend reporting and ROAS, CPO and CPA reports.
PRO VENDOR FUNCTIONALITY
Pro vendors receive additional functionality in their marketing explores that is not available to Growth merchants:
Subchannel and media type classifications to split channels and vendors into more granular categories like acquisition vs retargeting and brand vs non-brand
The ability to map marketing campaigns to channels / vendors / subchannels / media types (note that this requires additional work to customize the data model)
The ability to expose data down to the ad level for vendors that allow us to pull data at that level (note that Facebook data is only captured at the campaign level)
The Marketing Dashboard has five sections:
Summary Statistics
In the top section you'll find key metrics output at both WTD and MTD time intervals, including:
Spend by Vendor
Total Spend, CPA, CPO, and ROAS
ROAS broken down by Facebook vs Google
Additionally, you'll find the new customer rates by Channel. Balancing new and returning customers is the goal of all businesses. Repeat purchases from existing customers keep costs down so that investment can be made to continue acquiring new customers to drive your business.
Are you seeing a large amount of existing customers coming through high cost paid channels like Paid Social? If so, consider strategies to shift those customers to lower cost channels by improving email / SMS campaigns.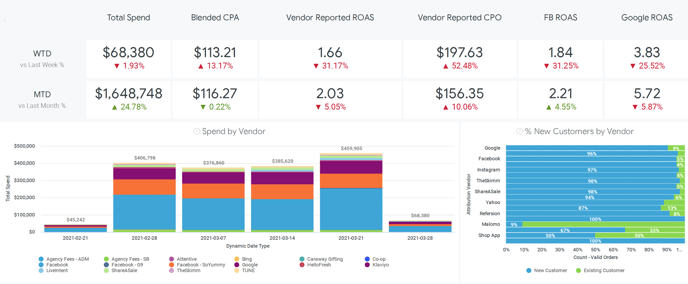 DATA TIP: WHAT SHOULD MERCHANTS DO WITH THIS INFO?
If blended ROAS is trending down or CPO trending up, it's time to dig in. Is it being driven by a certain channel?
Perhaps a 'free' channel (Organic, Email, Direct) is getting fewer orders
Is there more competition in a paid channel? A new competitor flooding Facebook or Google can drive up ad fees. Or as you approach your peak selling season you may see rising cost per clicks for the same key words in Google and Facebook as more companies bid on those key words.
Has a particular vendor started to underperform? Most merchants spend the bulk of their marketing budgets in Google and Facebook so taking a closer look at those vendors is a good place to start.
And vice versa, if ROAS is trending up and CPO is trending down, dig in to see why! Hopefully volume of orders has remained steady and a specific vendor happens to be more effective. If that is the case, test out more spend with that vendor to see if the improvement is sustainable under higher spend.
Vendor Specific Metrics
The next two sections contain visualizations that display your vendor-reported performance. This data is ingested directly from your marketing integrations.
The first section has time based graphs that show the trend by paid vendor so you can determine at-a-glance if one of your vendors is contributing to under or over performance.

Last Click vs First Click vs Vendor Reported Attribution

The next section compares the vendor reported CPO and ROAS to the Last Click and First Click CPO and ROAS. It's common for these metrics to be quite different for awareness driving ads and closer for 'lower-funnel' activities, such as branded paid search.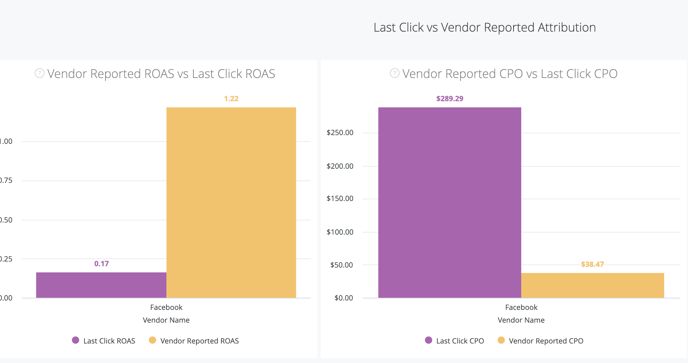 DATA TIP: WHY ARE THERE SUCH BIG DIFFERENCES BETWEEN FIRST CLICK, LAST CLICK, AND VENDOR REPORTED METRICS?
First click and last click attribution use UTMs, the channel mapping BSD and the discount code BSD to apply orders into specific channels and vendors (and for PRO merchants, subchannels and media types). Spend from each channel / vendor is then matched up against orders to determine the metrics for that channel / vendor.
For last click metrics, orders are only counted in a specific channel / vendor if the customer last clicked through an ad on that vendor before they purchased.
For first click metrics, orders are only counted in a specific channel / vendor if the customer first clicked through an ad on that vendor as part of their customer journey. The GA First Click Data integration is required to see this information.
Vendor reported metrics typically use "attribution windows" to determine if an order should be attributed to a specific vendor. For example, Facebook defaults to a "7 day click / 1 day view" window. If a customer clicks through a Facebook ad and lands on your site but does not purchase, then comes back to your site through ANY channel and purchases less than 7 days later, Facebook will count that as a "Facebook order".
Vendor reported metrics will typically try to take as much credit as possible for orders, whereas Last Click metrics will often under-report for vendors like Facebook where spend often leads to a click but not necessarily an immediate purchase. The "true" answer often lies somewhere in between these two methodologies.
For more on this, see here.
Click and Impression Data
The next section displays and compares impressions, clicks, cost per thousand (CPM) and cost per click (CPC) for vendors in which we have the data available via the API integration.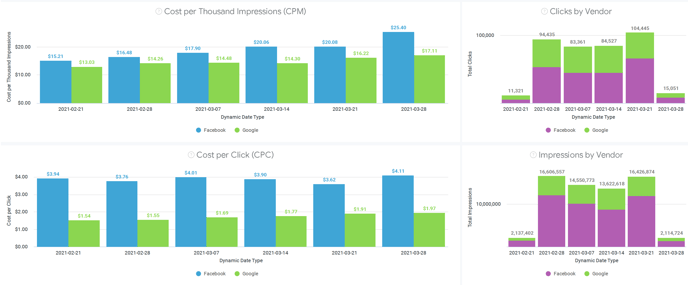 DATA TIP:
Cost per thousand impressions and cost per click metrics can be an early indicator that performance is trending up or down. Keeping an eye on these can help you make quick adjustments to marketing spend when you see your spend with a vendor becoming more or less efficient.
Channel and Vendor Level Performance
The final section contains Orders, Gross Sales, CPO, and CPA by Channel and by Vendor, for both first click and last click attribution models. This gives you a snapshot of the contribution each channel and vendor is making to your business.




Dashboard Requirements
For the Marketing Dashboard to work properly and be complete, merchants must have the following:
A Shopify integration
A Google Analytics integration
A Google Analytics First Click integration
At least one marketing integration
Channel mapping completely filled out in the Channel Mapping BSD
Reports
Total Spend WTD
Total Spend MTD
Blended CPA WTD
Blended CPA MTD
Vendor Reported ROAS WTD
Vendor Reported ROAS MTD
Vendor Reported CPO WTD
Vendor Reported CPO MTD
FB ROAS WTD
FB ROAS MTD
Google ROAS WTD
Google ROAS MTD
Spend by Vendor
% Orders From New vs Returning Customers
ROAS by Vendor Over Time
CPO by Vendor Over Time
Vendor Reported ROAS vs First Click and Last Click ROAS
Vendor Reported CPO vs First Click and Last Click CPO
Cost per Thousand Impressions
Impressions by Vendor
Cost per Click
Clicks by Vendor
Channel Performance Last Click
Channel Performance First Click
Vendor Performance Last Click
Vendor Performance First Click
Related Resources