Overview
The Operations dashboard gives you a quick snapshot of fulfillment and delivery to your customers. Knowing that customer experience and "the last mile" is critical to how your customers feel about your brand, we've highlighted key delivery metrics so you can keep an eye on performance and get ahead of issues.
The Operations Dashboard has two sections:
Fulfillment & Delivery
Inventory Levels
Fulfillment & Delivery
The first section focuses on if and how quickly your products are getting to your consumers.
In the image below, there are 3 areas identified.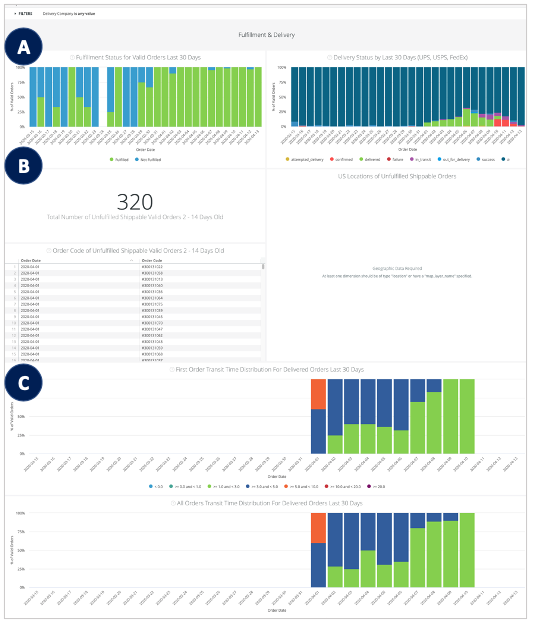 A. This area shows you the daily Fulfilled vs. Unfulfilled Orders as well as Fulfillment Status, such as In Transit, Attempted Delivery, Failure, Delivered.
Notes & Tips:
USPS and FedEx provide delivery status, DHL does not.
You can Filter by Carrier using the dashboard Filter to see differences between multiple carriers.
B. Section B is showing the quantity and Order IDs for Unfulfilled Orders. The default setting is Orders that are Unfulfilled and were placed 2-14 days ago. Typically fulfillments happen within 2 days, so orders not being fulfilled in this time period can alert you to issues with your fulfillment partner/system or with inventory. There is also a map of where those unfulfilled orders are heading.
C. Section C shows the transit time from when the fulfillment is created in the system to when it is delivered by New Customers and All Customers. You only get 1 chance to make a good first impression, so ensuring first time buyers are receiving their packages in the time frame they are expecting is important to setting the tone for the rest of your relationship with that customer.
D. Section D shows you the provider providing the best ship times, and the total shipments by provider.