Key Topics
Dashboard Description
The Operations dashboard gives you detailed analysis of fulfillment and delivery metrics. Customer experience and "the last mile" is critical to how your customers feel about your brand and poor experiences will impact repurchase rates and lifetime value.
In depth analysis of this dashboard can answer questions such as:
Are your products reaching your customers in an acceptable time frame (usually 4 days or less)?
Do you have a large number of unfulfilled orders sitting in your distribution center?
Should you shift more shipments to a different shipping provider if they are delivering orders more quickly?
The Operations Dashboard is split into four sections:
Fulfillment & Delivery Status
The first section focuses on how quickly your orders are fulfilled and delivered. The first visualization shows fulfillment status while the second shows delivery status. Look for older orders that remain unfulfilled or are stuck in a delivery status of "in transit" and consider reaching out to these customers with an update on their shipment.


NOTE:
USPS, UPS, and FedEx provide delivery information to Shopify. DHL and other providers do not.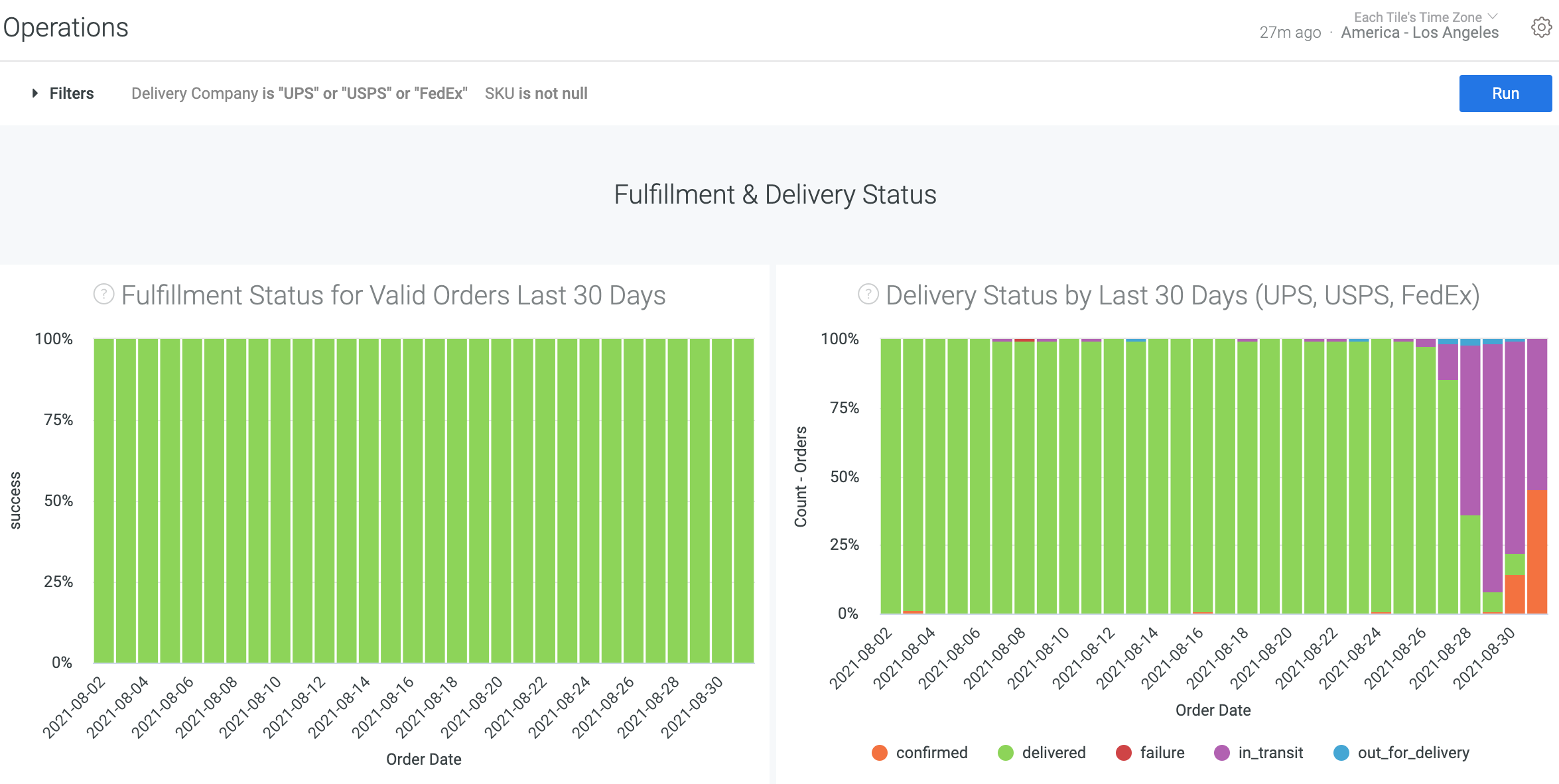 Unfulfilled Shippable Orders
The next section digs into those orders that have been placed between 2 and 14 days ago and remain unfulfilled. This includes a list of the orders that fall into this category.
DATA TIP:
The map included in this section can help you understand if you are having issues delivering to a certain area of the country. If you consistently see an area of the country with longer-than-expected delivery times, consider the following:
Do you need to provide special messaging to customers in that area upon checkout so they know to expect longer delivery times?
Would a different shipping provider be able to provide better service to that area?
For larger merchants, does it make sense to open a new distribution center closer to that area?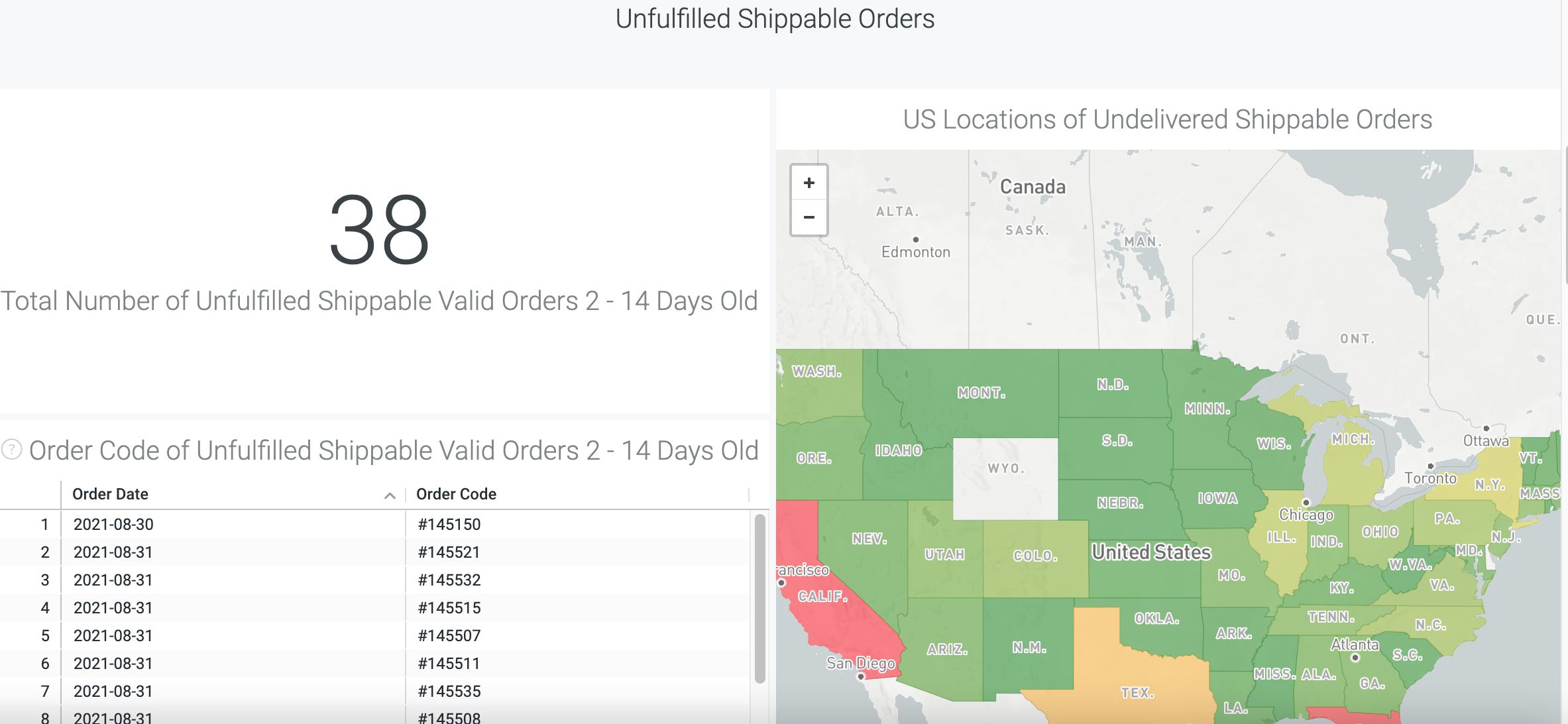 Transit Time
The next section shows average transit times by order date. The first visualization shows transit time for orders placed by new customers, while the second shows transit time for all orders.
DATA TIP:
Long delivery times are always a concern, but for customers placing their first order a long delivery time can be a repurchase rate killer.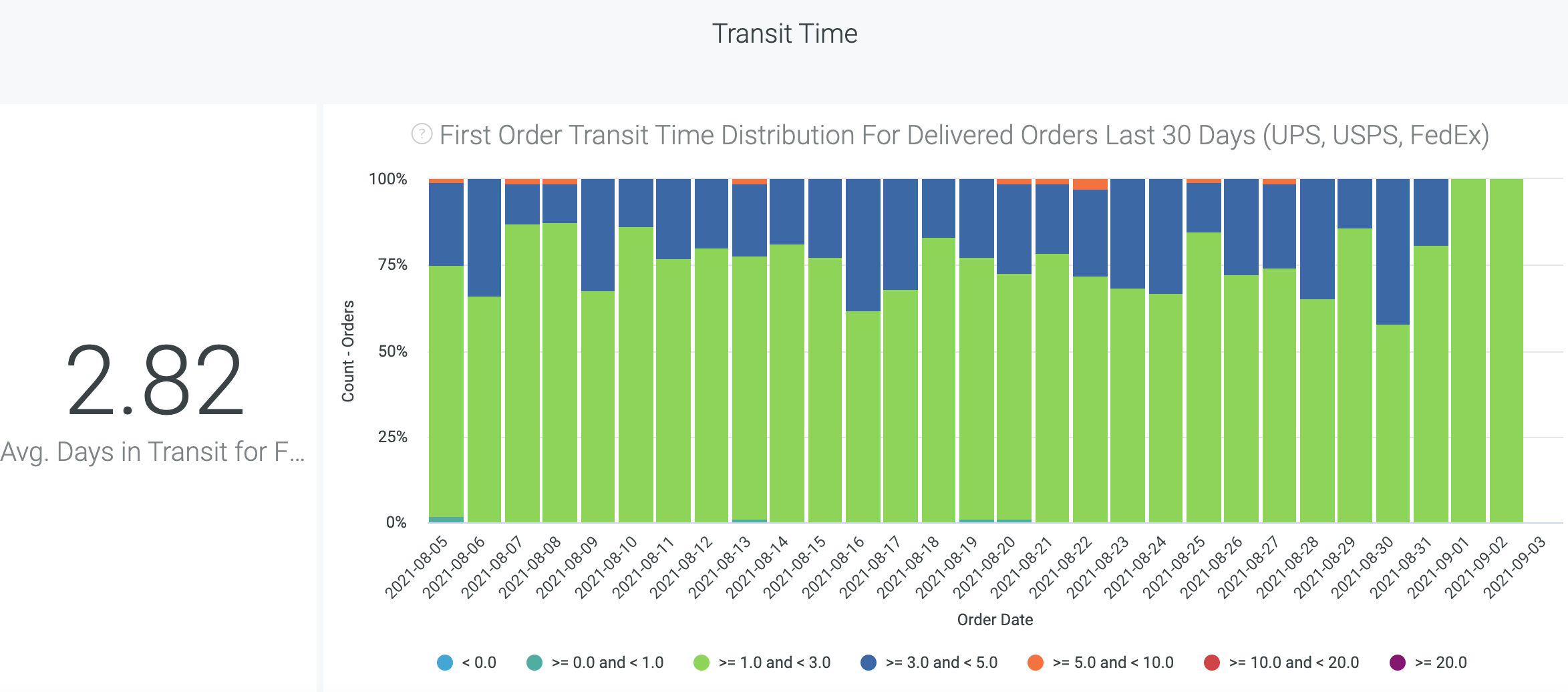 Shipping Provider Comparison
The next section is designed for merchants to understand which shipping providers are providing the best delivery times. The first visualization shows average transit times by shipping provider and shipping type, the second shows percentage of shipments shipped via each carrier.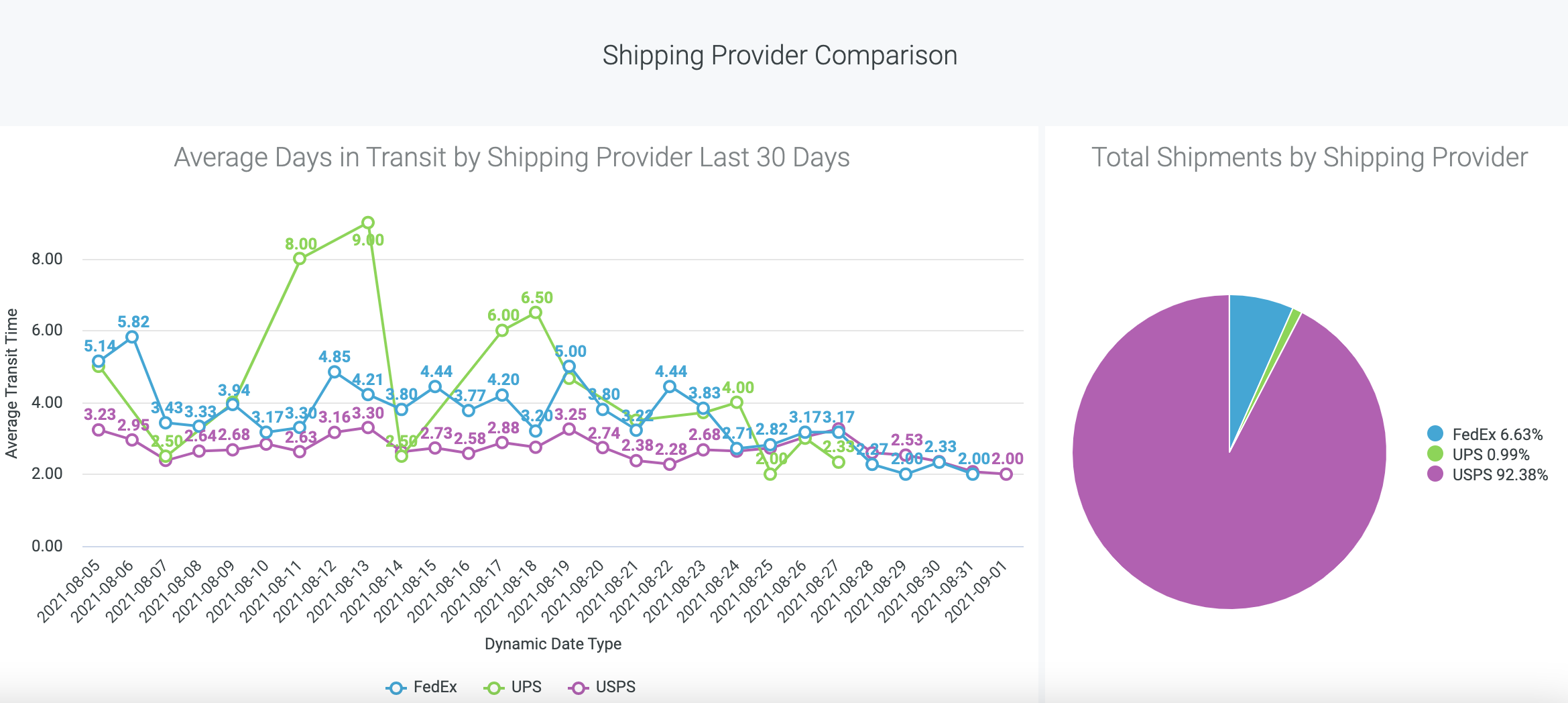 Requirements
The Operations dashboard only requires a Shopify integration, however shipping data is only collected from USPS, UPS, and FedEx. Other providers do not pass data back to Shopify.
Reports
Fulfillment Status for Valid Orders Last 30 Days
Delivery Status by Last 30 Days (UPS, USPS, FedEx)
Total Number of Unfulfilled Shippable Orders 2-14 Days Old
Order Code Of Unfulfilled Shippable Orders 2-14 Days Old
US Locations of Undeliverable Shippable Orders
Avg Days In Transit For First Order Last 30 Days
First Order Transit Time Distribution For Delivered Orders Last 30 Days (UPS, USPS, FedEx)
Avg Days In Transit Last 30 Days
All Orders Transit Time Distribution For Delivered Orders Last 30 Days (UPS, USPS, FedEx)
Avg Days In Transit By Shipping Provider Last 30 Days
Total Shipments By Shipping Provider
Related Resources