Overview
This dashboard summarizes the activity on your site and key metrics such as traffic and conversion rate by user type and device type. Use this as a resource to see how your site is performing over different time periods and with different customers.
Common Metrics: Site Traffic




These tiles provide details on your visitors. More sessions means more potential customers! Traffic isn't all that's important. We provide conversion details for each device type, and compare your first time visitors (according to Google cookies) to returning visitors.
Trend Data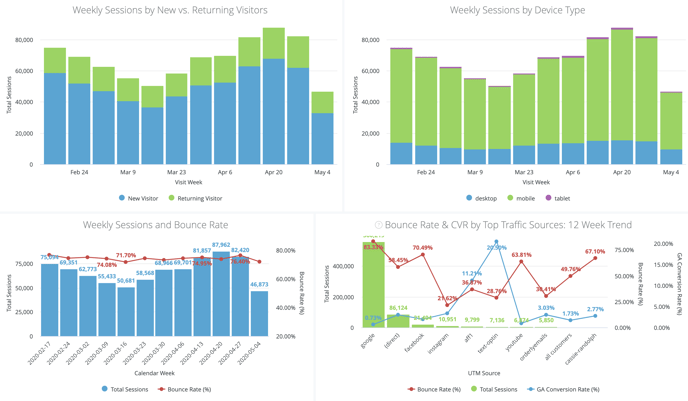 Most tiles in this section contain the trailing 12 weeks of data, along with an annual year over year (YoY) view. Answer questions such as 'What device types had the most sessions this week?' or 'How many new visitors to our site vs. three weeks ago?' Sessions, CVR, and Bounce Rates, are all broken down with visualizations over the time period.
Site Performance by Marketing Channel



How did they find us? This section breaks down how your visitors ended up on your site. Site traffic is categorized using your specific business rules set up in Channel Mapping. Daasity's Channel Attribution ensures the most accurate channel classifications based on UTM codes, discount codes and influencer rules.
Easily see which channel drives the highest conversion rate as well. Before making decisions based on conversion rate, make sure to consider the quality of customer and where in the funnel this channel comes into play. For example, low funnel channels like Branded Search, SMS and Email will naturally have higher conversion rates than channels that serve as more of an introducer of your brand.