The Site Funnel Dashboard will provide a breakdown of customer shopping stages per device, type of customer (New/Returning), and Channel of Acquisition. This dashboard illustrates the journey customers take from visit to becoming a transaction.
Why site funnels are important
Knowing where the drop-offs are occurring with your customers can give you hints about areas to optimize on your site. There are often lower conversion rates on mobile compared to desktop. Perhaps customers are just shopping on mobile, or perhaps there is information that is less obvious on mobile that helps convince them. This could be an area to test.
Similarly with New and Returning visitors. If all customers are landing on the same page, perhaps a different experience for new customers could result in a higher add to cart rate?
Getting customers to view products and add to cart should be your priority, then you can leverage cart abandon campaigns to help close the sale.
There are 5 main stages to a site funnel:
Site Visit
Product View
Add to Cart
Enter Checkout
Conversion (Transaction)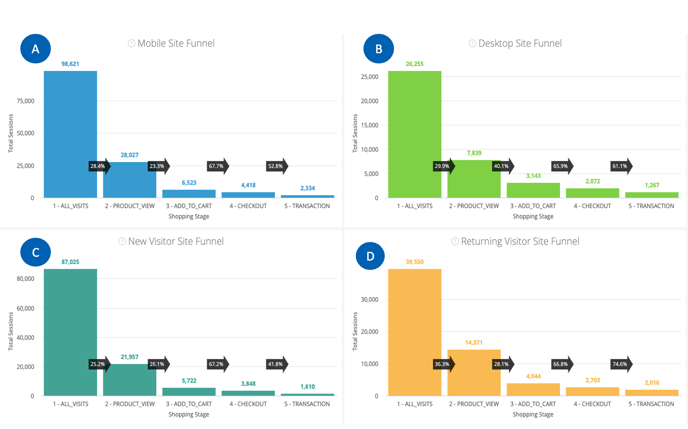 A, B.
Mobile/Desktop Site Funnel - The Mobile and Desktop Site Funnel tiles show the customer's journey by device type. As you can already tell, the term "funnel" applies as the number of visitors decreases as you get closer to the transaction phase. The tiles include both a raw number and a percentage to show the amount of customers you're keeping (Product View to Cart, etc.).
C, D.
New/Returning Visitor Site Funnel - These tiles show the difference between New and Returning customer stages. Do customers you've seen before have higher transactions? Is there a drop off from new customers after product view? These tiles help identify which shopping stage needs optimization.


E, F.
Overall Conversion by Channel AND % Conversion All Visits to Product Page View
Tile E breaks down the total conversion percentage by Modified Last Click Channel, based on your unique business rules you've entered into Channel Mapping. Tile F breaks down the percentage of conversions from Checkout to Transaction by Modified Last Click Channel.

G.
%Conversion Product View to Add to Cart by Channel - This tile focuses on the conversion of customers that have viewed a product, then added to cart. But how did the customer get to your site? On the left side, you'll notice "Modified Last Click Channel." This channel tells you how the customer arrived. The x-axis shows the percentage of the total of those customers by channel, who have placed an item in their cart. The thin green line shows the average view to cart. Click here for more info on Channel Mapping.
H.
% Conversion Checkout to Transaction by Channel - This tile serves the same purpose as "E." but focuses on Checkout to Transaction. Both of these illustrate which marketing channels the most customers are converting from.