This article will help you learn more about the Subscription Dashboard, the insights you can gain from the dashboard, the types of questions you can answer and links to the reports that make up the dashboard
Key Topics
Dashboard Description

The subscription dashboard is designed to give merchants both high level and detailed views into their subscription programs. The metrics in this dashboard can help you answer questions and make decisions such as:
Which products should we offer as a subscription?
Are customers that have a subscription more valuable than customers that have never had a subscription?
Should we push subscriptions to new customers or only existing customers?
Are AOV and Gross Margin / order better or worse for subscription orders? If it is too low should we think about raising prices / eliminating discounts?
Is the monthly churn rate acceptable? Why are customers churning from the subscription program?
SUBSCRIPTION DASHBOARD AND RECHARGE
The subscription dashboard is currently only available for merchants with a Recharge integration. For steps on how to install the Recharge integration, see here.
The Subscription Dashboard has four Sections:
Subscription Statistics (All Time)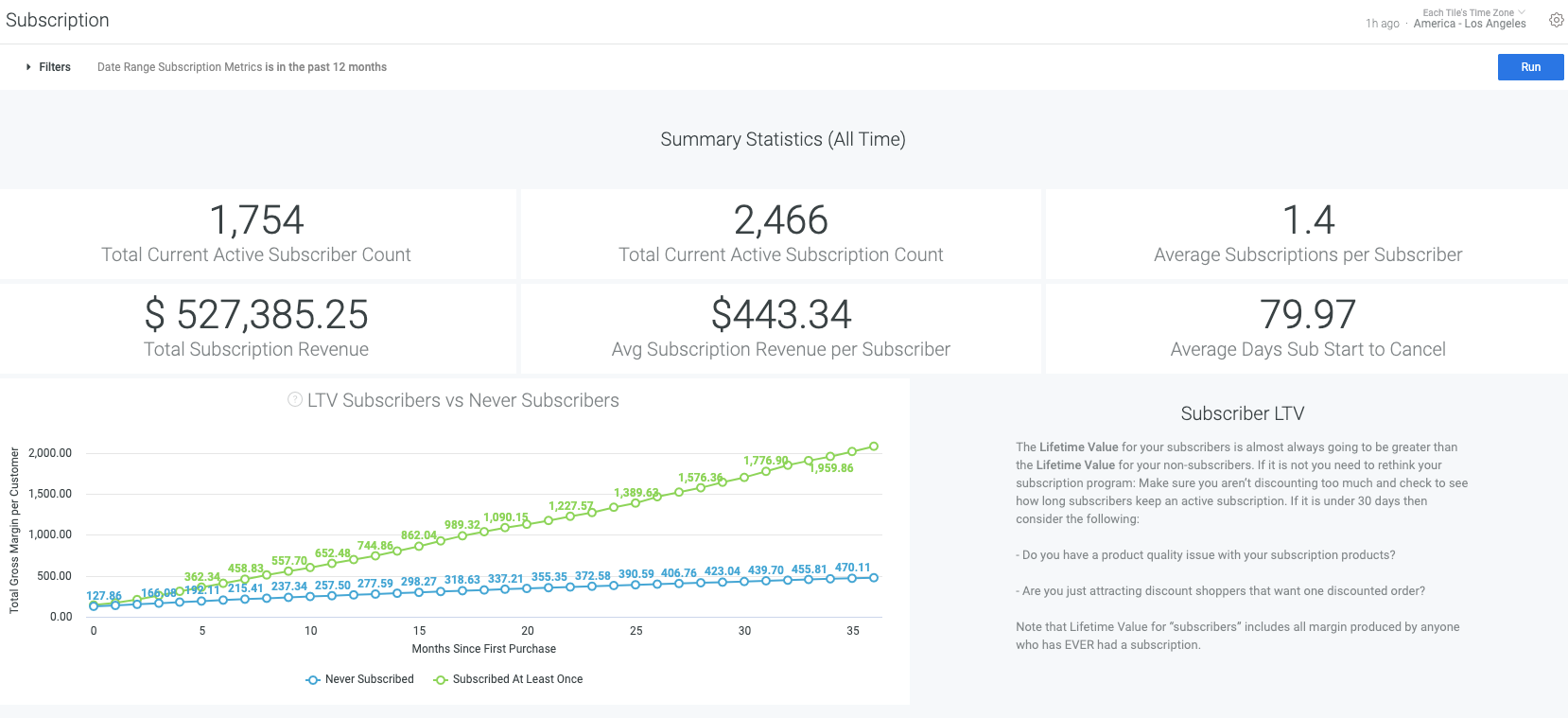 The top section of the dashboard includes metrics designed to give you a high level view of the health your subscription program. Metrics like Total active subscribers / subscriptions, average subscriptions per subscriber, and average days from subscription start to cancel can give you an at-a-glance view into how your subscription program is growing and performing.
NOTES AND TIPS:
Subscription counts in Daasity will NOT match with subscription counts in the Recharge UI. The Daasity counts have been verified to be correct. It is possible to manually pull down a list of subscriptions started in a given time frame from the Recharge UI and verify that the Daasity number is correct and the number displayed in the Recharge UI is incorrect.
The LTV of subscribers vs never subscribers shows you how much more valuable your subscribers are vs customers that have NEVER subscribed. Your subscribers are almost always going to be some of your best customers so their LTV is going to be higher whether or not you have a subscription program, but it's important to understand HOW MUCH greater their LTV is in order to understand if your subscription program is worth the effort in marketing, product design, and fulfillment.
This top section is not filtered by the date range filter at the top of the dashboard.
Subscription Metrics


The Subscription Metrics section contains some more details about the health of your subscription program. Note that this section IS filtered by the date range filter at the top of the dashboard.
NOTES AND TIPS:
Subscription Order AOV and Subscription Gross Margin per Order are important metrics to compare vs non-subscription orders. If you are offering a discount or lower priced products with a subscription it is important to make sure you are still hitting your margin goals.
Churn rate is calculated using a formula which takes into account the number of active subscription days and the number of available subscription days.
A good benchmark for churn rate is having at least 66% of your subscriptions still active after 3 months, and at least 50% of your subscriptions active after 6 months. The Subscription Status by Start Month Look allows you to see how many subscriptions are still active out of all subscriptions started in a given month.
Subscription Detail: Product, Marketing, Customer
This next section focuses on detailed subscription information at the monthly level.



The top two visualizations display subscription level information at the monthly level for metrics like active subscription counts and monthly MRR / AOV
The middle visualization shows which products customers are adding as subscriptions.
The last two visualizations show New Subscriptions by First Order Channel and % of Subscriptions Started on a Customers First Order.
NOTES AND TIPS:
Gives a view of subscriptions at the subscription level in counts and in gross sales in the case of Monthly MMR and AOV.
Understanding which products customers subscribe to, the channel they first order through, and whether they start a subscription on their first order or later can tell you when to send your customers messaging related to your subscription program, which products to show them, and which channel to approach them through. Subscription programs can be used as acquisition tools but often function best when used as retention programs advertised through email, SMS, or retargeting in other ad platforms.
Subscription Retention


The subscription retention table is an easier way to look at how long subscriptions are staying active for different cohorts (i.e., which month the subscription was started in).
The two cancellation reason visualizations allow you to see why customers are cancelling their subscriptions.
NOTES AND TIPS:
Sometimes cancellation reasons are not actionable (e.g., I already have more than I need), but if you see reasons like This is too expensive or I need it sooner there are many different actions you can take. If margins support it, consider changing pricing or offering a discount. If many customers need product sooner than you may need to think about changing the default to a shorter renewal schedule.
Dashboard Requirements
As mentioned above, merchants must use Recharge as their subscription vendor and must have the Recharge integration installed with Daasity to use this Dashboard.
Reports
Total Current Active Subscription Count
Average Subscriptions per Subscriber
Total Subscription Revenue
Avg Subscription Revenue per Subscriber
Average Days Sub Start to Cancel
LTV Subscribers vs Never Subscribers
Average MRR
Subscription Order AOV
Subscription Gross Margin per Order
Avg Monthly Subscription Churn Rate
% Revenue From Subscription
Total Subscriptions and Average Churn Rate by Month
Subscription Status by Start Month
Total Active Subscriptions at Month End
Monthly MRR and AOV
Monthly Subscriptions by Product
Monthly New Subscriptions by First Order Channel
% Subscriptions Started on Customers First Order
Subscription Retention
Cancel Reasons by Month
Top 10 Cancellation Reasons
Related Resources